iTop Software, the creator of the popular iTop VPN, has recently introduced DualSafe Password Manager. This new tool offers password management for users looking to secure their account information and store all passwords in one place. Once you memorize your master password, all of your other passwords will be auto-saved and auto-filled by the application at no cost (if you choose the initial pricing plan). 
The priority has been set on security, which is why AES-256 encryption comes as standard across all plans, offering the current industry standard for protection. There are also other additional security features that the app offers, but for those, you will have to pay for a premium plan. All in all, if you're looking for a place to store your passwords and have the health of your passwords monitored, then DualSafe presents a solid entry into the world of password managers.
Plans and pricing
The initial tier offers basic functionalities that are more than enough for most users, and to top it all off, it is completely free. With it, you can save as many passwords as you like, and the auto-fill and auto-save functions will work fine. Though, you will be limited to only three devices. 
If you're looking for additional features, such as unlimited devices, and health checks for your passwords, dark web monitoring, and alerts, you will have to choose the premium plan. The premium plans also have an Emergency Access function. When you are unable to access your data, the individual you grant emergency access to can request the exportation of your data or modify the Master Password for DualSafe Password Manager. For the premium plans, there are two payment options: a monthly one that costs $5.99 a month and an annual one that allows you to save 65% and pay $2.08 a month for a total of $24.99 for the entire year.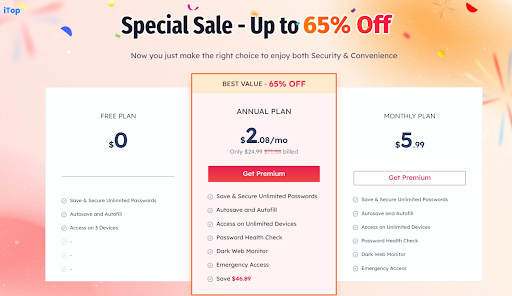 Setup and in use
The setup is pretty straightforward; once you download the .exe file, run it, and the app will be installed on your desktop and browser of choice (Chrome in our case). From here, you will be asked to create your iTop account using your email or simply sign in using your Google or Facebook account.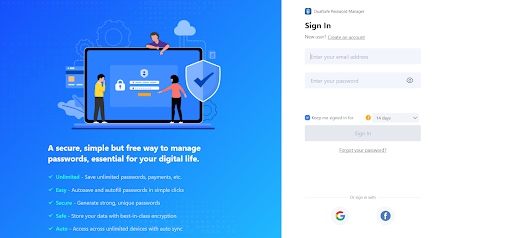 After you log in, you will have to create a new master password, the only one you will need to remember going forward. A neat feature is that the recovery code the app generates for you is available as a PDF download so you can store it securely.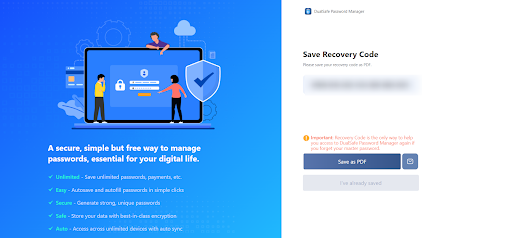 Interface and performance
The app's interface is modern and stylish, with a rail menu on the left side that leads you to all the app's functions. In the upper part is the search bar, which can help you find items you saved in the app itself, like notes or login details. 
Importing all of your passwords is easy; you can import from all major browsers, or if you have your passwords in a .CSV file, you can import that as well. We had a properly formatted database of passwords, which were imported quickly and functioned flawlessly. Other than that, you can manually add your login details if you so wish, though we would go with the import option, as it's fast and hassle-free. 
The Windows app boots up quickly, and we haven't noticed any issues in using it. Similarly, the browser extension immediately springs into action when trying to log in to a site you frequent, and either offers to auto-fill or save the login details in its vault. Overall, we've had quite a positive experience with the app.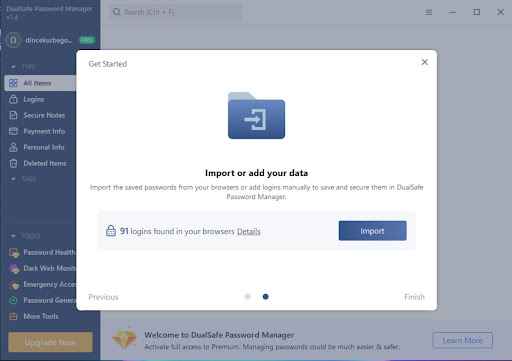 Security
The DualSafe Password Manager, utilizes the advanced AES256 encryption method to keep your data secure. It also employs a zero-knowledge architecture, ensuring that only you can access your information. Even the DualSafe Password Manager team cannot view your login details because all passwords are end-to-end encrypted.
To protect your passwords, DualSafe Password Manager creates backups, ensuring they are preserved even if there is a device malfunction. Before being backed up, the passwords are encrypted for security. As a result, they are highly secure and practically impossible to decipher. Furthermore, all your data is regularly updated so that you can access it from the browser extension or app. When it comes to the password health check feature, you have the ability to assess the strength of your passwords. This feature examines all saved passwords for any security vulnerabilities. Provides an overview of outdated, duplicated, and weak passwords that may pose risks to your security. We understand that it can be challenging to create unique passwords for each of your logins, which is where DualSafe offers its password generator. With DualSafe, you can effortlessly generate complex passwords. It even provides time-based, one-time passwords for an added layer of security. The Password Generator features of DualSafe allow you to easily create personalized passwords with varying lengths and combinations whenever you need to create an account or update your existing passwords.
Support
While there is a detailed manual for the application, the ticket support system that is available to users covers all of iTop's products. In short, this means longer wait times to get support from a customer support representative. The app itself is not that complicated, and most of its functions are straightforward, still, we would like to see more responsiveness for this application alone.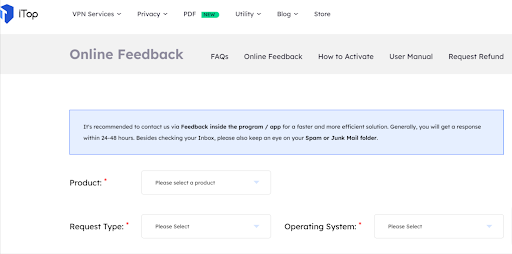 The competition
Bitwarden – Bitwarden is an exceptional password manager that offers a comprehensive range of features without any cost. While there are certain premium features available, none of them seem unreasonable to us. Free software doesn't get much better than this.
LogMeOnce – Prefer not to use master passwords? LogMeOnce offers an alternative method for securing your vault by using a selfie or scanning a QR code. Additionally, they guarantee that their free tier will always remain the same, providing unlimited password storage and 2FA.
For more alternatives, check out our Best free password manager of 2023.
Conclusion
The DualSafe Password Manager offers reliable security features and an attractive free plan. It is a great choice for individuals who are new to password security or find advanced tools challenging. While the free option provides a secure space to store passwords, the subscription plans offer enhanced security measures and protection against data breaches.