More than ever, it is important to protect your data while online, which is why many people use the best VPN for additional online security. 
Services such as RocketVPN claim to help you encrypt all traffic from you to anywhere in the world and protect the data you transmit and receive from your ISP and hackers. This sounds good, but do they keep their word about protecting your data? 
With so many VPNs available, it is possible that you will run into a VPN provider with the same name as another. It is important not to confuse RocketVPN with another VPN of the same name because the latter is based in Moscow, Russia, and is run by a company called RocketVPN Network, and the former is based in Dublin and is owned by Liquidum. 
The Russian-based VPN offers an undisclosed number of servers but claims they are located in different countries including, Russia, USA, UK, Australia, and India. Additionally, the VPN provider asserts that each time you connect to their VPN, your connection receives a dynamic IP address from a pool of more than 4000 anonymous IP addresses. Another disadvantage of this VPN is that, as of the time of this review, it had not undergone any security audit.
Unlike most Russian-based VPNs that only have their websites in Russian, RocketVPN's website is available in English, Russian, Chinese, and Deutsch languages.
Pricing & plans
The VPN vendor offers a 24-hour free trial, so you can try the service for a day and decide whether or not you want to purchase a subscription, and offers four very straightforward pricing plans. 
The Bronze plan costs $19.99 a month. The Silver plan is priced at $29.99 for three months. The Gold plan costs $39.99 every six months. Finally, the Platinum package is charged at $49.99 a year. 
Unfortunately, there's no free VPN option here, which we found disappointing, but the clarity in subscriptions is always welcome. If you encounter any problems while using the VPN, and you want a refund this VPN gets none, which is quite unfortunate as many providers offer a generous money-back guarantee.
When you purchase RocketVPN subscription plan, you can use it on up to five devices at the same time. Also, you can purchase any of the VPN vendors' plans using PayPal, credit or debit cards, Alipay, UnionPay, MIR, Qiwi, Apple Pay, and others.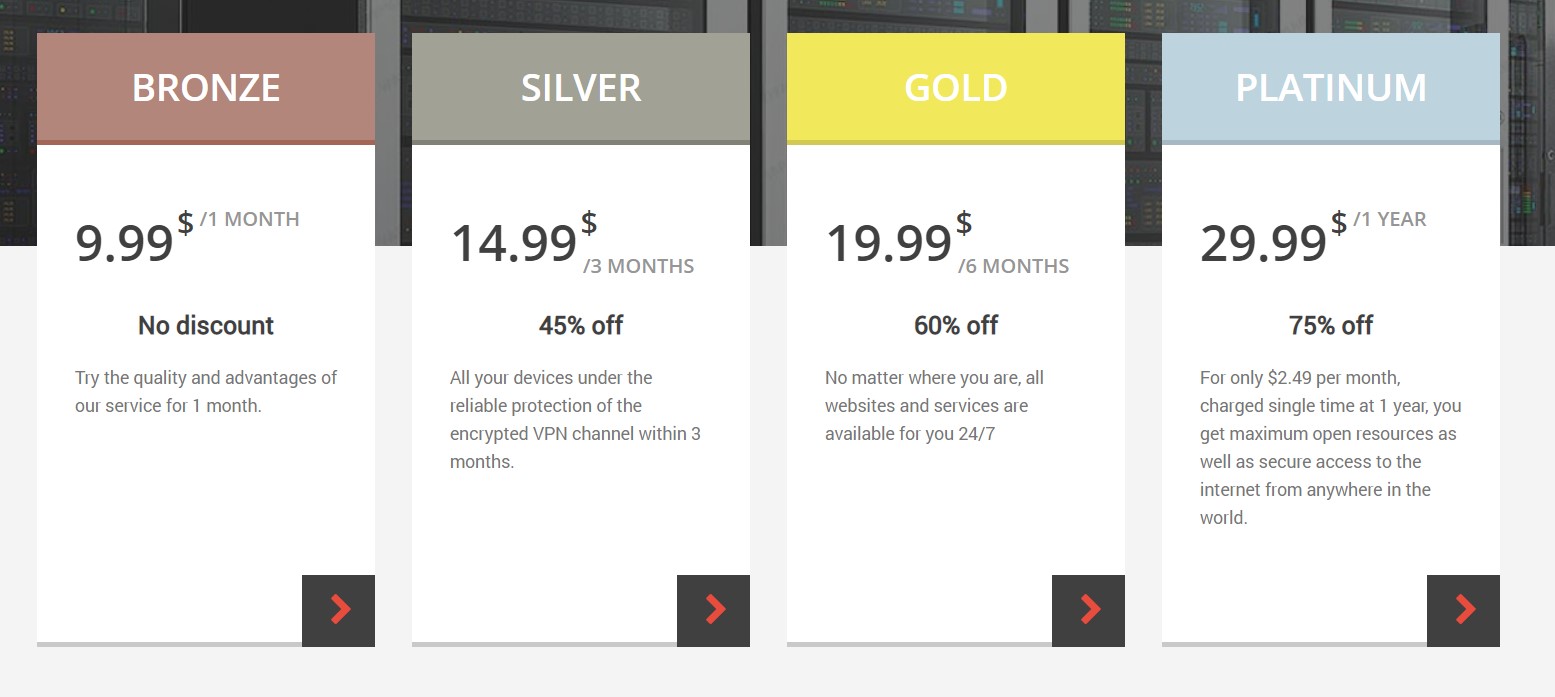 Privacy & encryption
RocketVPN's privacy policy is a brief document, and all we were told was that it gathers your personal information to better understand your needs and interests, conduct business and improve business, personalize communications, improve service, and give you a quality experience. It also claims not to transfer, sell, or rent your personal information to third-party companies. 
And that's all there is to it. No mention of logging was made in the VPN privacy policy. This statement in the privacy policy makes it impossible to know if any of your information or activities while using this VPN are being monitored. Even worse, no independent auditor has conducted a VPN audit to verify any of these claims.
RocketVPN supports the PPTP, L2TP, and OpenVPN protocols but the website is silent on the type of encryption employed. All we know from the Privacy Statement is that all personal data, including public and private keys and passwords, is stored in an encrypted format with reputable cryptographic algorithms. 
We would appreciate it if the company would let us know what kind of encryption it employs, and offer a security audit in order to increase our confidence. Despite the fact that this is touted as VPN for torrenting and P2P sharing, we do not advise you to torrent with RocketVPN. This is because the VPN lacks a kill switch, and you could run the risk of exposing your original IP to your ISP while you are torrenting. 
Streaming
Unblocking geo-restricted content on websites like Netflix and BBC iPlayer has grown in importance – leading to a rise in the best streaming VPNs and best VPNs for Netflix. 
Thankfully, that's the case here. In our testing, we discovered that RocketVPN provides access to geo-restricted streaming services such as Netflix, Hulu, Amazon Prime Video, and BBC iPlayer  
Speed & experience
RocketVPN claims to be a reliable VPN that will deliver fast network speeds. Well, we decided to test this claim on a 60 Mbps connection. Our first target location was the one closest to us, the United Kingdom, and this gave us an exceptionally fast 32.12 Mbps. The next stop was in the US, where the VPN server gave us a speed of 20.43 Mbps. We then wanted to see how a server far from us would fare, so we decided to pay a visit to one in Hong Kong, which delivered a speed of 4.22 Mbps.
To be honest, we didn't experience a straightforward process while using RocketVPN. We had to follow the website's instructions in order to test the download speeds because there are no native apps for it.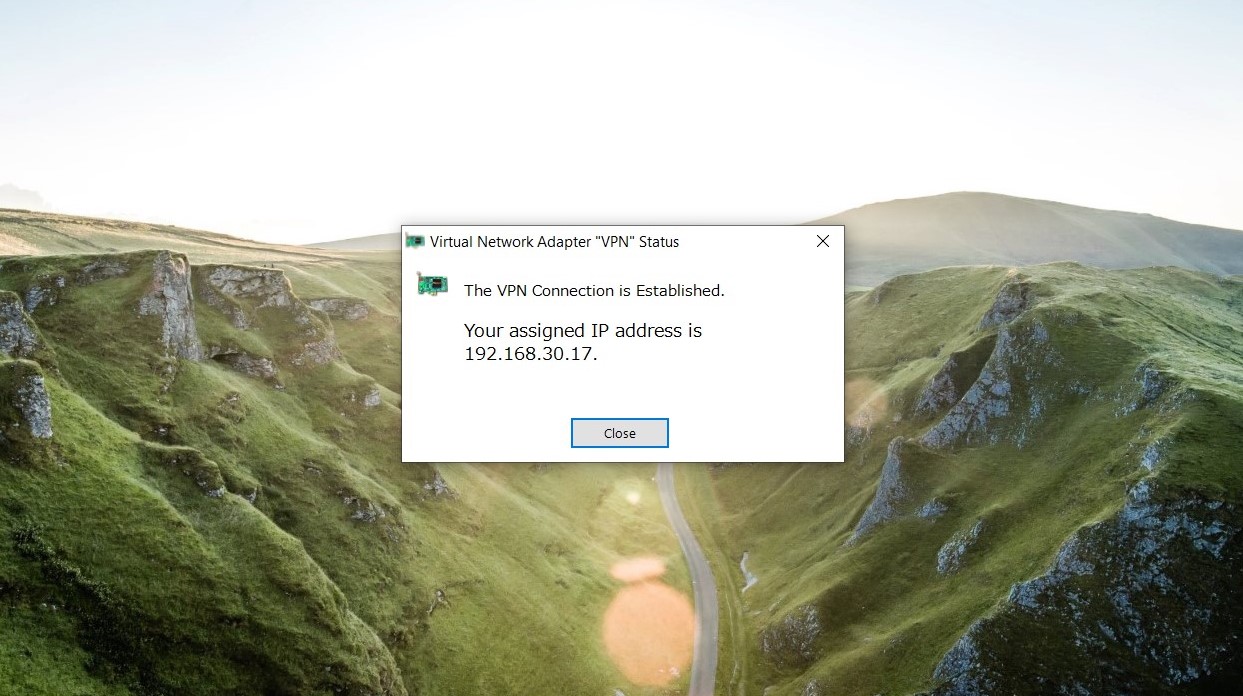 Support
RocketVPN is compatible with Windows, masOS, Android, and iOS. However, it lacks native apps; instead, it only provides access to its services through a device's built-in VPN settings, as well as third-party software and configuration files that can be downloaded from the website. 
The website also has comprehensive instructions for setting up the VPN on your device if you need assistance. But these instructions can only be accessed when you sign up and log in on the website. If you still need assistance, the VPN offers 24/7/365 support via live chat and a contact form. Strangely, we have yet to receive a response to a question submitted via the contact form, and the live chat messages we sent were never delivered.
Alternatives
Although it is not entirely bad and has some advantages, RocketVPN is unquestionably no match for services such as ExpressVPN, NordVPN, or CyberGhost. All of which provide stunning native clients, tens of thousands of servers, unrestricted traffic, round-the-clock customer service, an incredibly generous free trial, and more. 
Verdict
Despite the lack of native apps, detailed information, thousands of servers, or flashy extras, Rocket VPN does a great job considering how little it costs on a monthly basis.
It also provides assistance every step of the way, delivers above-average download speeds, allows torrenting, and unblocks geo-blocked streaming content.
With a few improvements, Rocket VPN could compete a little more effectively with industry giants.