The best VPN services – formally known as virtual private networks – are apps for your desktop, mobile and gaming devices that allow you to hide your location, identity and IP address from the rest of the internet. And, as more casual users realize that they're not just for hackers and privacy nuts, VPNs are becoming mainstream and can be found on millions of devices worldwide.
All VPNs work much the same way – by tunnelling your internet traffic through secure servers located all around the world. The result is that your no one can see what you're reading or downloading, and that includes the government, your internet provider and even the VPN service itself.
The best VPN services at a glance – our top five
1. ExpressVPN – The best VPN money can buy
2. NordVPN – World-famous VPN is one of the best
3. Surfshark – Fast, affordable and simple to use VPN
4. CyberGhost – Specialized VPN for streaming and P2P
5. IPVanish – US-based VPN with unlimited connections
The best VPNs' ability to encrypt traffic and change your location also allows you to bypass blocks, filters or restrictions on the internet or local networks, allowing to you to get the most out of many sites and subscription services you might already pay for.
That means if there's a TikTok block at your school, you can use a VPN to access it on your phone regardless. If you're visiting China later in the year, you'll be able to use a VPN to access Facebook and Whatsapp, both of which are blocked in the country. And, if you're on vacation in the UK and want to access your usual US Netflix or Hulu content, a VPN makes that possible with a single click.
If you fancy taking advantage of everything a VPN can do, here we've compiled a definitive list of the top services to help you find the best VPN for you. You can also read our full reviews by following the included links if you want to take a deeper dive into the pros and cons of each individual service.
What's the best VPN service?
The competition gets tougher every day, but there's still a clear winner that's head and shoulders above the rest – ExpressVPN.
One of ExpressVPN's main assets is that it's incredibly easy to use on any platform – be it your phone, PC or even PlayStation. It also aced all of our streaming tests, easily getting around the geo-restrictions of Netflix, BBC iPlayer, Hulu and Amazon Prime Video – and, because it provides such swift connections, you'll be able to watch in HD just like usual (if your Wi-Fi can handle it, of course).
To top it off, you'll also be covered by a 30-day money-back guarantee which means you can effectively test-drive the service and its 3,000+ servers for a month before you buy.
You can read much more about ExpressVPN and what sets it apart below, and there's also information about NordVPN, Surfshark and seven more of its closest competitors that all feature in our best VPN hit list.

The best VPN services today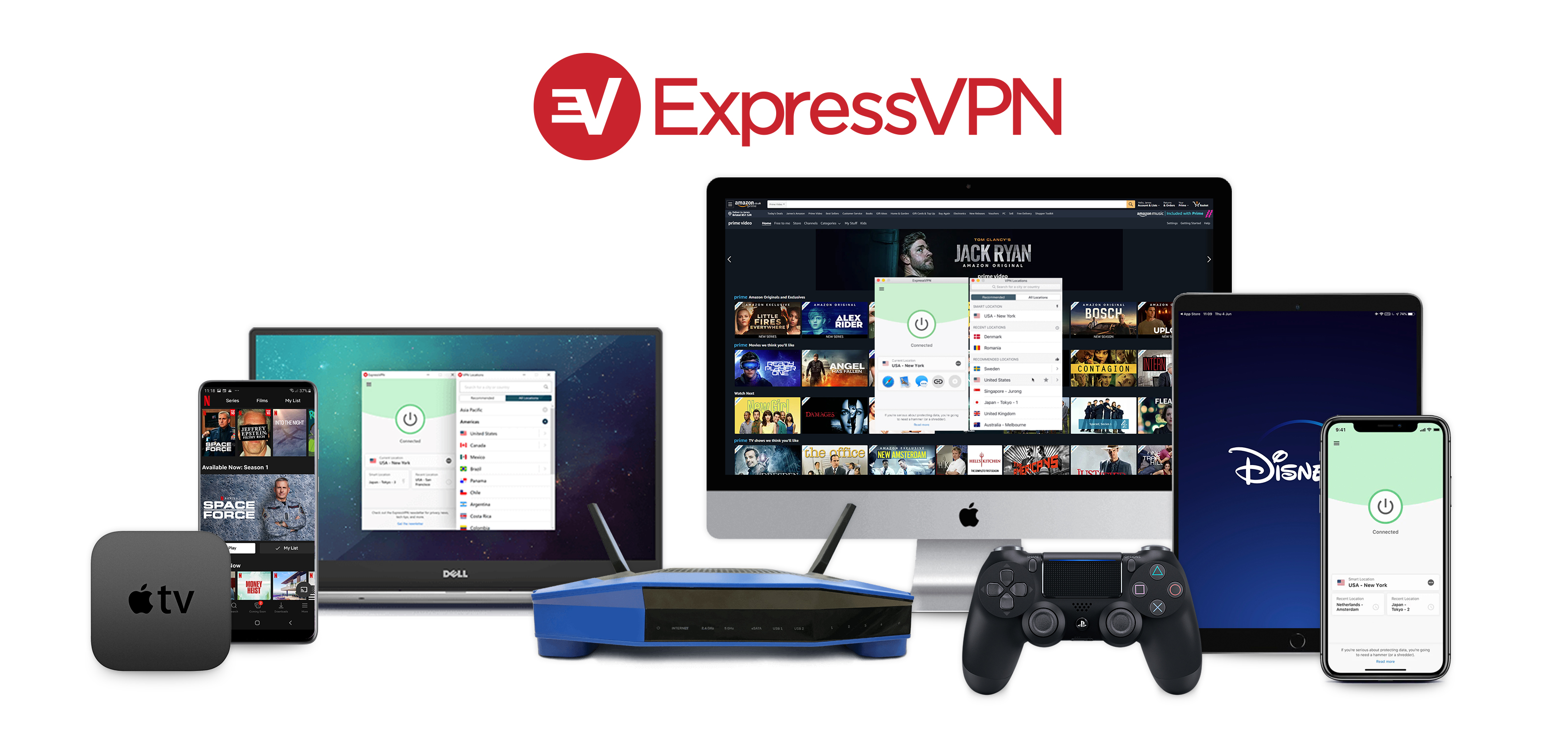 The best VPN for streaming, privacy and speed
Number of servers: 3,000+ | Speeds: Unlimited | VPN locations: 160 in 94 countries | Maximum devices supported: 5 | 24/7 live chat: Yes | 30 day money back guarantee: Yes
Among the fastest VPNs out there
Wide device support
30-day free trial
Ace 24/7 support service
Not the most simultaneous connections
ExpressVPN is simply the best VPN available (our full ExpressVPN review is here) thanks to its fantastic apps, ease of use, superb speeds, excellent 24/7 customer-service support and wide compatibility across devices. You can use the service on Mac, Windows, iOS, Android or even Linux and BlackBerry, and you can also install it on your Android TV, games console or your home router.
With a kill switch, split tunneling, DNS leak protection and military-grade encryption as standard, your data will stay secure, plus its no-logging policy assures your anonymity in any situation. And, Express's stellar 24/7 live chat support will help if anything goes awry.
Perfect for newbies as well as veterans, ExpressVPN offers that rare combination of simplicity and in-depth functionality. The apps retain the same clean, one-click-and-you're-connected interface across all devices, but if you want to open the hood you'll be able to configure it exactly how you want it.
Fancy watching US Netflix when you're abroad? Express can sort you out with that –plus any other regional library you might be interested it. It'll also get you stuck into BBC iPlayer, Hulu, Amazon Prime Video, HBO Go, Sky Go, Disney Plus… Basically, if you want to watch more, ExpressVPN can keep you stuck to your sofa for as long as you want.
If we had any complaints, it'd be that Express only offers five simultaneous connections, but that's recently been increased from three and should be plenty for most users.
We could go on for pages singing Express's praises, but all we need to say is that it's the best VPN service available for pretty much any purpose. However, if you're not sure, the 30-day money-back guarantee gives you plenty of time to test so you can make sure it's right for you. If it isn't, you'll be able to get a refund – no questions asked.
Get 49% off plus three free months of best VPN 2020
Tom's Guide readers can claim three months free on a 12 month plan with ExpressVPN – that's 15 months for the price of 12. But if you want to try before you buy, you'll still be covered by that 30-day money-back guarantee to make sure it's the right VPN for you.
View Deal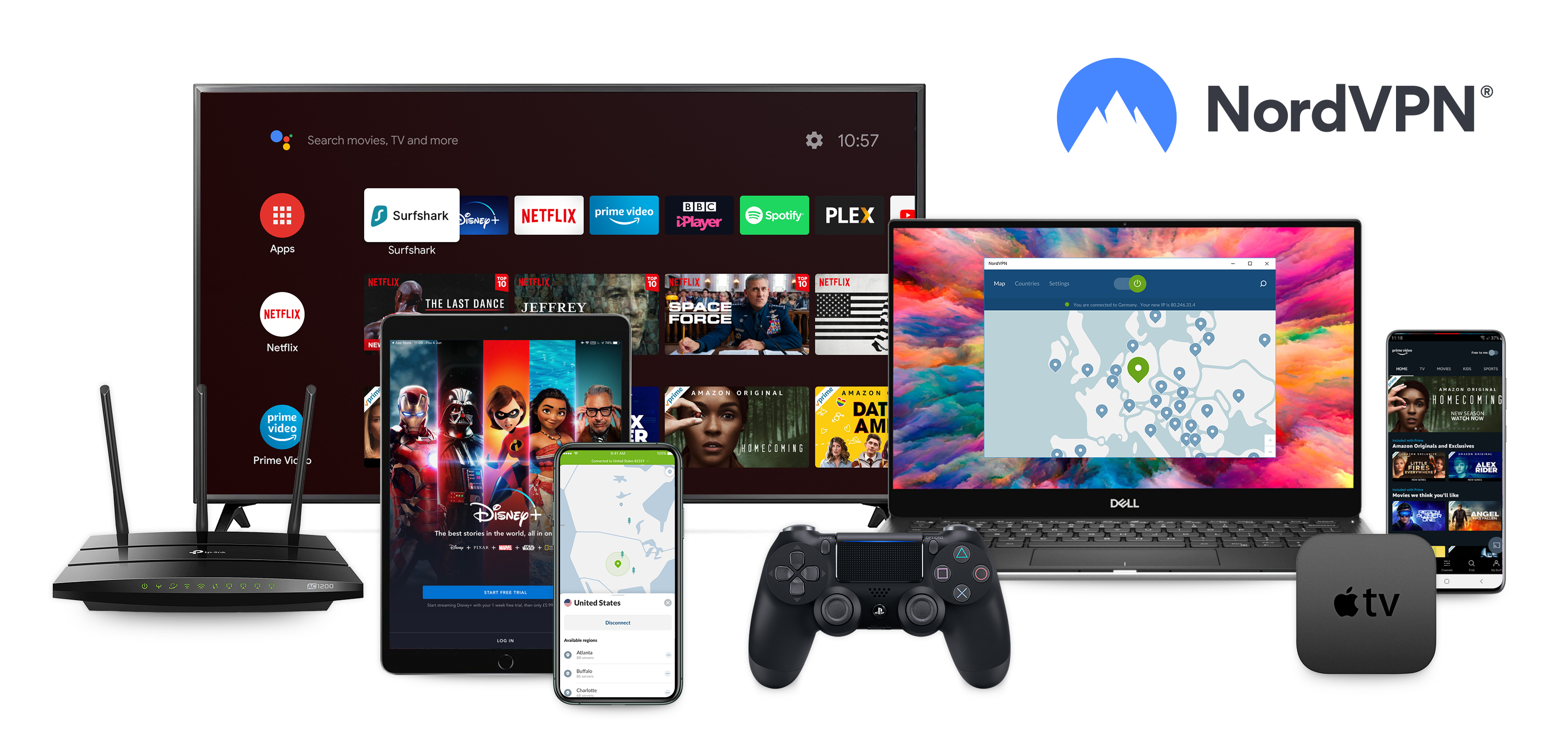 The world's most famous VPN is also among the best
Number of servers: 5,100+ | Server locations: 80+ in 59 countries | Maximum devices supported: 6 | 24/7 live chat: Yes | 30 day money back guarantee: Yes
Super 2048-bit encryption
Fresh security audit in mid-2020
Six devices at once
Tons of servers
Mobile apps can be awkward
If you're on this page then you probably know about NordVPN – and yes, the security giant you've seen on TV is one of the best VPNs. While it can't quite match Express in terms of all-round excellence, Nord provides a seriously secure, privacy-focused experience.
You'll be covered by fantastically over-engineered 2048-bit double encryption, alongside the usual extra features like a kill switch and a choice of protocols to let you choose if you want extra speed or safety. You'll also have a great selection of apps for pretty much any device you want covering.
Those apps do present one of Nord's downsides though – on desktop and larger screens the map-based interface is quite useful, but on handheld devices it's much more clumsy than a server list. While you can access one with a swipe, we'd like to see one immediately.
That's a small quibble, though, because otherwise NordVPN provides a great experience. You'll be able to stream overseas Netflix, BBC iPlayer, Hulu and more, plus with its great connection speeds you won't be left buffering.
Nord was subject to a well-publicised data breach in 2019, but has taken great steps to remedy this, not least a full independent audit of its internals and no-logs policy. All this comes together to make an excellent VPN service that only misses out on the top spot due to a couple of app issues – and the fact that the competition is so strong.
Save 70% on one of the best VPNs available today
NordVPN is currently running a 'final sale', after which it will stop offering its three-year plan. As the cheapest of the bunch, it's worth going for – and if you're not sure, you'll also be covered by a 30-day guarantee so you can make sure you like Nord's service in the long-run. View Deal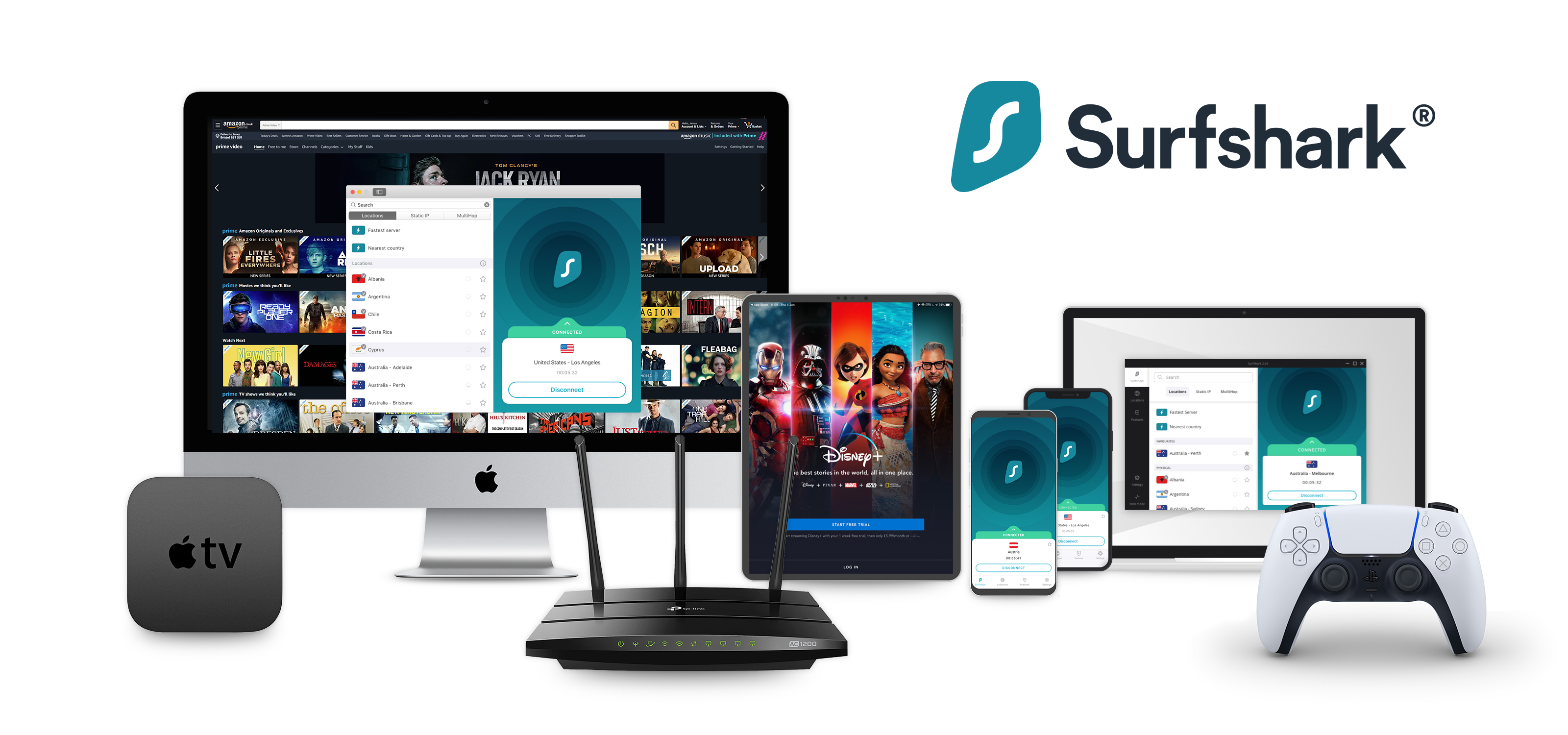 3. Surfshark
Fast, affordable and super simple to use
Number of servers: 1,700+ | Server locations: 100+ in 63 countries | Maximum devices supported: Unlimited | 24/7 live chat: Yes | 30 day money back guarantee: Yes
Unlimited devices supported
Reliable and quick connections
Longer plans are great value
Apps are fairly simple
For those on a budget, Surfshark offers a genuinely powerful VPN for less than half what some competitors are charging. No, you won't have all the bells and whistles, but for those that just want reliable internet security and speeds good enough to stream with, it's got all you need.
While they're not incredibly in-depth, Surfshark's apps look great and are easy to use. All you need to do is tap the quick connect button and you're off. You'll also be able to get apps for plenty of devices including Android, iOS, WIndows, Mac and Linux.
On that note, with Surfshark you really will be able to protect every device you own, because it offers unlimited simultaneous connections with a single subscription. That means you can cover 10, 20, even 50 devices with one plan.
Surfshark's no slouch in the privacy department, with a kill switch, split tunneling and AES-256 encryption. If you want seriously powerful configuration in your VPN then it's probably not for you, but it'll keep you secure – it wouldn't be on this list if it wouldn't.
Value is what makes Surfshark really shine, though. If you sign up for two years you'll be paying less than $2 each month, and you can cover everything you own with one plan. It's that simple.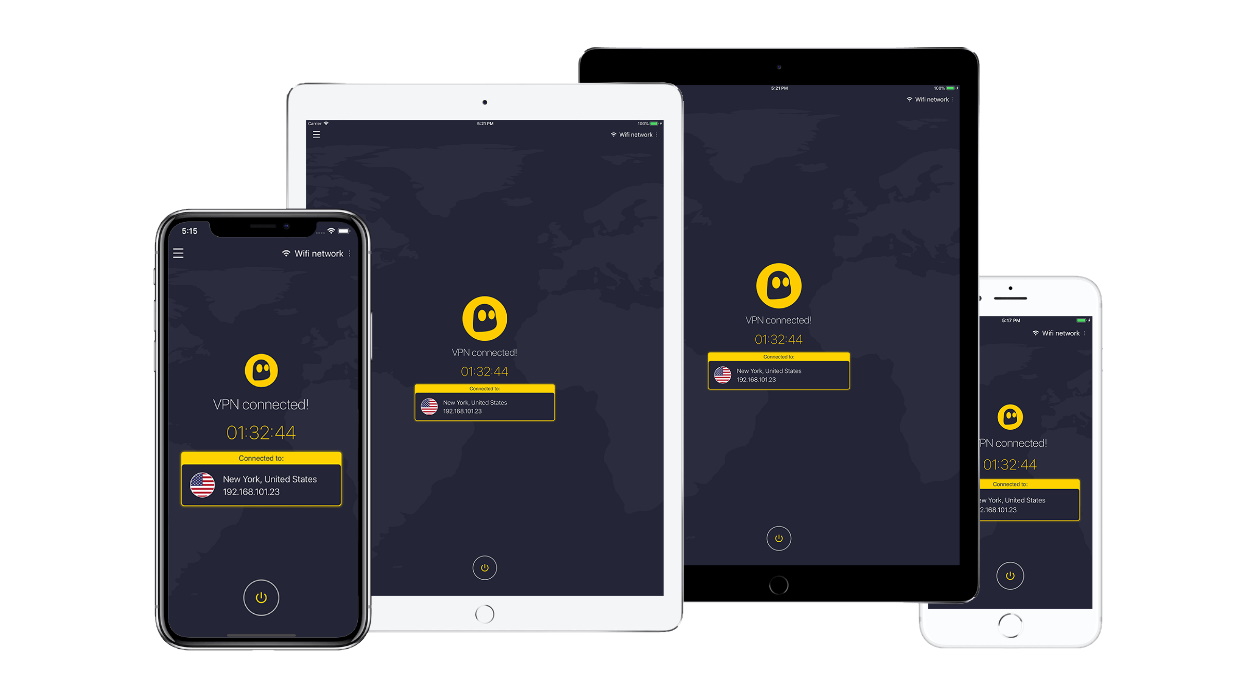 4. CyberGhost
Loads of features and servers
Number of servers: 6,200+ | Server locations: 111 in 89 countries | Maximum devices supported: 7 | 24/7 live chat: Yes | 45 day money back guarantee: Yes
Wide server spread
Lots of features
45-day money-back guarantee
Spotty performance
Interface could be better
CyberGhost has a feature-loaded, user-friendly interface, with convenient buttons in the Windows client software for streaming media, torrenting files, protecting your Wi-Fi transmissions and evading censorship.
Those streaming and torrenting features are really useful, as it takes out the trial-and-error of testing individual servers to see if they work with Netflix and the like. While ExpressVPN's just always seems to work, individual servers of many other providers can drop Netflix support as they get detected, so CyberGhost makes it super easy to get streaming.
On that note, there are about 6,300 CyberGhost connection points (and rising) in around 90 countries worldwide, so there's always a great selection. You don't need to provide your real name, just a working email address, and you can pay in Bitcoin to remain nearly anonymous.
As with most fully-fledged VPN services, you can connect directly from your operating system's network settings or use third-party OpenVPN software to do so. You'll also have a choice of VPN protocols, and you can set up a home Wi-Fi router to use CyberGhost all the time.
CyberGhost is transparent about its company structure, posting photos and bios on its website of everyone from the CEO to the cleaning person, and privacy fanatics will like that the company is based in Romania rather than in the US But CyberGhost's full-service subscription price is among the most expensive month-by-month – it's far better to just pay for a year at a time.
While performance isn't quite up there with the best, and the apps are a little fickle at times, CyberGhost is still a top-tier VPN that we can strongly recommend.
Sign up now on the the CyberGhost website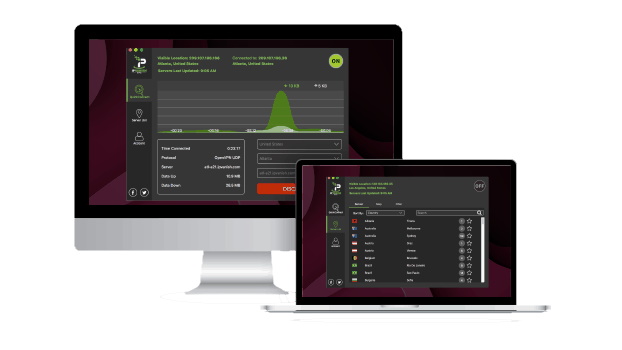 Unlimited simultaneous connections from US-based service
Number of servers: 1,500 | Server locations: 75+ in 52 countries | Maximum devices supported: 10 | 24 live chat: Yes | 30 day money back guarantee: Yes
Very reliable
Live-chat support
Unlimited connections
Based in the US
Fifth in our current rankings list comes IPVanish – a fantastic VPN service that boasts over 1,500 servers in more than 75 locations and 24/7 customer service, However, a brand-new selling point is that IPVanish has recently adjusted its policy to allow unlimited simultaneous connections – along with Surfshark, it's one of the only VPNs on this list to offer that.
Those connections could come in handy, too, as IPVanish works on lots of devices, including Mac, Windows, Android and iOS. The desktop apps offer plenty of options that will keep the pros happy, while the just-work simplicity is also there for everyone else. That it all functions with far above average speeds is a nice bonus.
The aesthetic of the apps is similar across all devices – read: very techy – and while some might appreciate rolling graphs and an interface full of data, for those less interested in all that it could seem a little intimidating. It need not, though, because, as we mentioned, it's all very simple to use.
The lack of a kill switch on the mobile version of the app may be a downside – but if we're digging that deep for a problem, it's a pretty good sign that IPVanish is a good service.
If you do want to give this VPN a go, you're covered by a 30-day money-back guarantee. While its subscription price is somewhat high, and its US base may be a negative for some potential customers, it's worth trying out the service and making the most of the guarantee to see if it agrees with you.
Sign up now on the IPVanish website
6. Private Internet Access (PIA)
Basic cover at a reasonable cost
Number of servers: 2,600+ | Server locations: 68 in 47 countries | Maximum devices supported: 10 | 24/7 live chat: No | 30 day money back guarantee: Yes
Competitive pricing
Usable on 10 devices at once
Strong apps
Support access could be better
Private Internet Access (PIA) has been around for some time, and it's built a dedicated following of users that appreciate its reliability and dedication to privacy.
It provides speedy connections on the majority of its servers, and while it doesn't have the widest selection of location, it works well in most situations. We also like that PIA's 'Detect Best Server' function takes the guesswork out of things for you, by suggesting which of its 60+ locations you should adopt at any given time.
As you'd expect from any decent VPN, it has dedicated apps for Windows, Mac, Android and iOS, and even Linux is among its line up. The mobile apps also don't disappoint, providing great cover whether you're at home or out and about. However, while PIA can get you access to Netflix abroad, it struggles with BBC iPlayer. That might not be a big loss, but for Brits abroad it may well influence your decision.
PIA offers 10 simultaneous connections, which should be plenty to cover your household's devices on one plan. And, if you go for the longer subscription, PIA offers great value, too.
While its support and unblocking capabilities aren't up there with the best, if you're looking for a simple VPN to get you going with a minimum of fuss, PIA is certainly a good shout.
Sign up now on the PIA website
7. Hotspot Shield
Incredible speeds – with a few drawbacks
Number of servers: 3,200+ | Server locations: 130+ in 80+ countries | Maximum devices supported: 5 | 24/7 live chat: Yes | 45 day money back guarantee: Yes (Plus limited free version)
Decent free version
Excellent performance
Servers in China and Russia
Concerns over logging policy
Poor support
While it's probably best-known for its free VPN, Hotspot Shield does offer a fully-featured paid-for VPN that's surprisingly impressive. It offers possibly the fastest VPN speeds available for a fair price, and it's pretty easy to use to boot.
However, to max out your connection speeds, you'll have to make some sacrifices. Hotspot Shield only offers one protocol, the proprietary WireGuard-based Catapult Hydra, and offers little in the way of configuration in its apps. That'll be fine for many.
A big issue is its logging policy. While it claims not to collect any identifying information about the user, hidden in the policy is the fact that it collects your bandwidth used, your time connected, your imprecise location and more. For those looking to stream overseas content this won't be a huge issue, but for those seeking absolute online privacy, we'd highly recommend on of the providers further up this list.
While it delivers excellent speeds and a useful UI, those logging concerns plus limited app support means Hotspot Shield sits fairly low on this list. We're happy to recommend it, but it won't be for everyone.
Sign up now on the Hotspot Shield website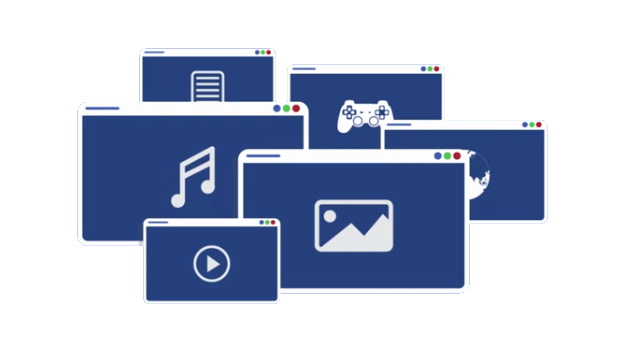 8. Windscribe
Unlimited connections plus basic free version
Number of servers: 400 | Server locations: 110 in 63 countries | Maximum devices supported: Unlimited | 24/7 live chat: No | 30 day money back guarantee: No
Affordable
Unlimited connections
Privacy wins
Isn't the fastest
No trial or live chat support
Windscribe VPN's standout features are a very generous free service that gives you up to 10GB per month, and a moderately priced paid service that lets you connect as many devices at once as you like. Most other VPN services permit only five to 10 at a time.
Windscribe is compatible with many platforms – including routers and Amazon Fire and Kodi TV set-top boxes. The service offers a great variety of connection options, has a wide geographic reach with hundreds of servers, and presents an appealing, if minimal, user interface. It was also one of the best at connecting to foreign Netflix libraries, if you're into that sort of thing.
Windscribe's network performance wasn't quite as impressive, however. In our testing it delivered slower connection times than its competitors.
You can pay for a Windscribe subscription with Bitcoin, you don't even have to provide an email address, and the service is based in Canada, which may appeal to users wary of US authorities. The only feature lacking is a kill switch to stop all internet activity if the VPN connection is lost while in use. But Windscribe argues that its built-in firewall prevents data leakage.
Overall, it's a decent service that offers a great free version to get you strated.
Click through to the Windscribe website to sign up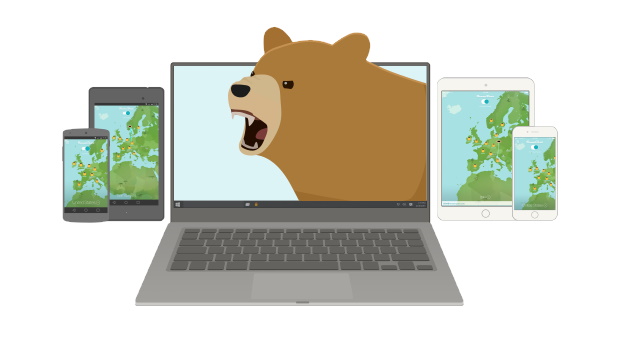 9. TunnelBear
A great option for total VPN newbies and technophobes
Number of servers: 1,000 | Server locations: 23 | Maximum devices supported: 5 | 24/7 live chat: No | 30 day money back guarantee: No (but limited free version)
Extremely user-friendly
Excellent security guarantees
Very secure
US owned
Client software required
Goldilocks would love TunnelBear, as it's just right for VPN newcomers. It has a friendly, easy-to-use interface; offers a limited free plan that's ideal for casual use in airports and cafes; is uncomplicated yet offers a fair number of options; has over 1,000 servers in 20 or so countries; and doles out a large helping of security and privacy.
TunnelBear's network performance and pricing are just about average compared with other services we've reviewed The company takes security and privacy seriously, explaining its policies and protocols in plain English, and you can read the results of two third-party security audits on the company website.
However, you've got no choice but to run TunnelBear's client software – unless you use Linux – which may concern some privacy-minded users, and there's no option to set up TunnelBear connections on routers or other devices. Finally, this tiny Canadian firm is now owned by US antivirus giant McAfee, which may mean TunnelBear is subject to US search warrants.
Click through to the TunnelBear website to sign up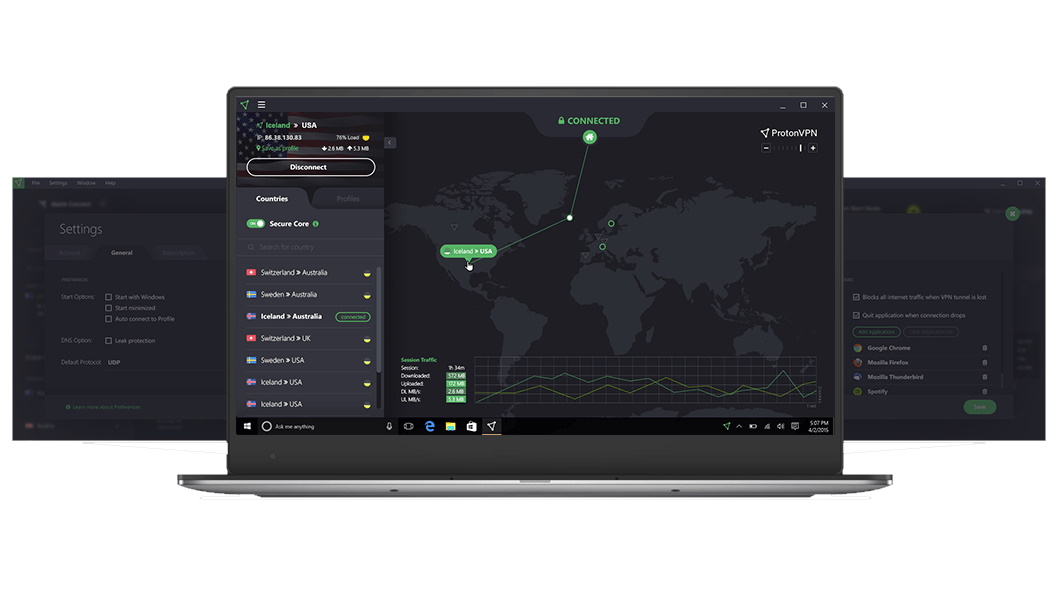 10. ProtonVPN
Security and streaming prowess make ProtonVPN a contender
Number of servers: 800+ | Server locations: 50+ in 50 countries | Maximum devices supported: 5 | 24/7 live support: No | 30 day money back guarantee: Yes
Unblocks a wide range of streaming services
Audited, high quality apps
Free option worth trying
Lacks live chat support
Not the quickest out there
ProtonVPN has come more and more to the forefront of our attention of late. It's a high quality VPN provider with some real pros that could easily persuade you its way.
One of the absolute standouts is how effective it is at unblocking the catalogues of TV streaming services when abroad. Netflix? No problem. Amazon Prime Video? Easy. BBC iPlayer? A doddle. So if your main reason for being on this guide is to find a fantastic VPN for streaming, then Proton is a decent fit.
If you're somebody who is likely to use your VPN regularly on an Android or Apple mobile, then ProtonVPN's apps are really a joy to use. They're basically as feature-filled and easy to use as its desktop clients.
We must say that we expected faster speeds when we tested Proton's prowess on servers around the world – an area of improvement that could move ProtonVPN up even further in our estimations. And it could really do with adding live chat support like its contemporaries. But it's also useful to note that there's a free version you can try as well, if you just want to give it a go before committing to a purchase.
Click through to the ProtonVPN website to sign up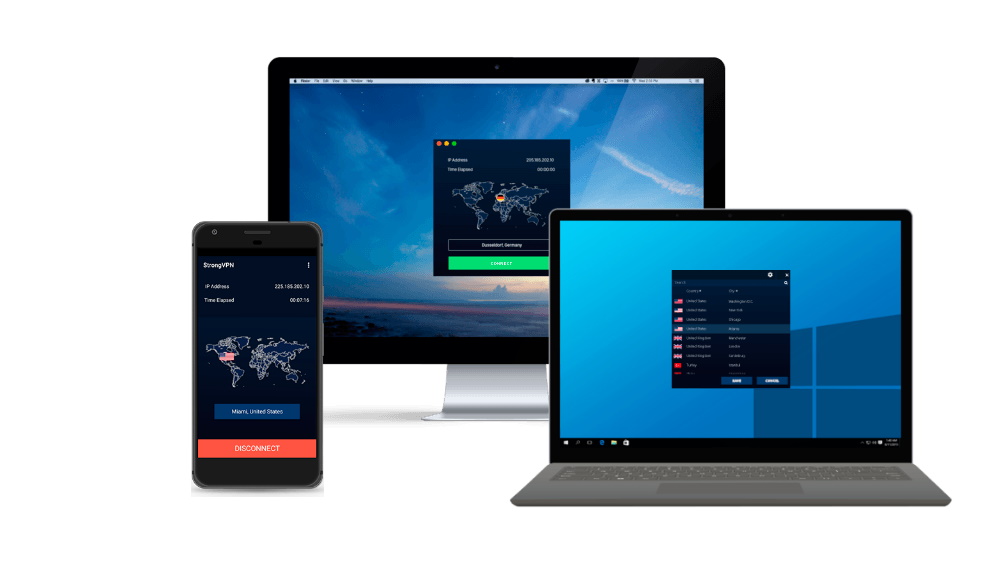 Strong on streaming and support
Number of servers: 950+ | Server locations: 60+ in 36 countries | Maximum devices supported: 12 | 24/7 live support: Yes | 30 day money back guarantee: Yes
Works on 12 devices at once
Bypasses region locks for Netflix etc.
Has own DNS service
Windows app is bare bones
Limited features
StrongVPN is a solidly performing VPN, perfect for bypassing region locks. However, beyond the basics, it offers some unique extra benefits while missing out on some more obvious others.
The really attractive feature is that you can have up to 12 devices running StrongVPN at once, which is more than enough to cover all of your devices and still have some left over. But this is balanced out by a lack of details, like information in the server browser or DNS settings, and the fact you have to pay a relatively high price for even an annual subscription in comparison to rival VPNs. StrongVPN offers a 30 day money-back guarantee, too.
All the same, you do get 24/7 customer support, including a helpline with more limited opening times, plus a good speed in almost every server location, which makes it at least passable for any kind of user.
Click through to the StrongVPN website to sign up