Dashlane is one of the oldest and most popular password manager apps on the market – it's got more than fourteen million customers and it's been around since 2012.
A glance at its feature list will explain why it's remained popular for a decade. Its core features include 2FA encryption, customizable settings and secure autofill settings, you can store unlimited passwords using this tool. Companies like Wayfair and PepsiCo trust it – so you know they must be on to something.
We've explored the features that make Dashlane stand out in our review – and found out if this older app can keep up with its newer rivals.
Our password manager advice doesn't stop there, either. Head here for our verdict on the best password managers, and take a look at our choice of the best business password managers.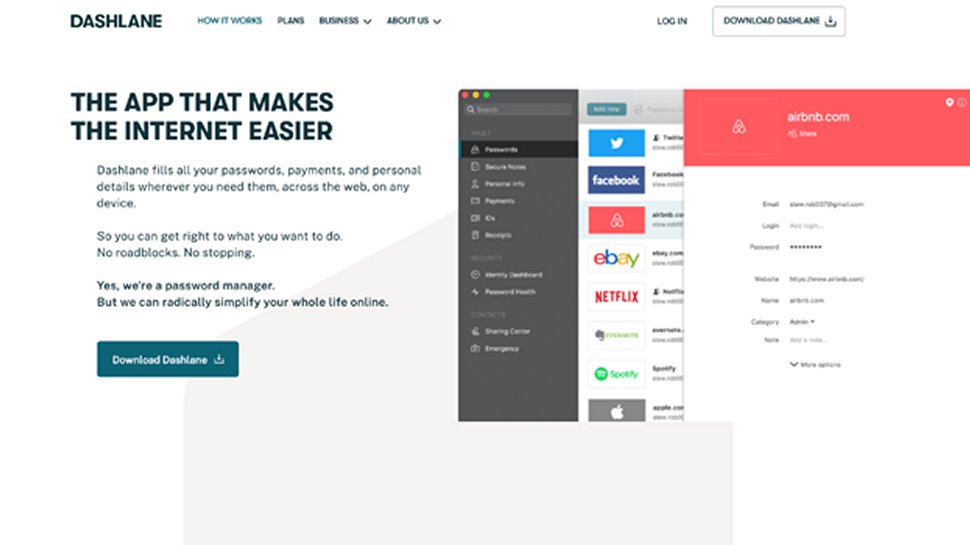 Dashlane: Plans and pricing
There are loads of options available when it comes to Dashlane products. Individuals can opt for the free product tier, which includes support for an unlimited number of passwords on one device alongside a password generator and all the app's core features, like 2FA and personalized alerts.
The Advanced plan costs $2.74 / £2.50 / AUD$4 per month if it's billed annually and it allows individuals to use Dashlane on an unlimited number of devices – and it also includes dark web monitoring. The Premium plan at $4.99 / £5 / AUD$7.50 adds VPN for Wi-Fi protection, too.
Families can pay for $7.49 / £7 / AUD$10 per month for a package that supports up to ten family members. With that product you get all the features available elsewhere – plus a dashboard for easy management.
Three different business plans are available. For $20 / £20 / AUD$30 per month you get support for ten users with unlimited passwords, secure sharing, business and personal spaces, and dark web insights. The per-person Team plan adds unlimited seats and VPN to the base product.
The priciest Business product costs $8 / £8 / AUD$12 per user per month, but it adds SSO integration, SCIM provisioning, a free friends and family plan for all users and on-demand phone support – which is something you don't get with lots of cheaper products.
Check out the latest Dashlane promo codes to see how you can save further on certain plains.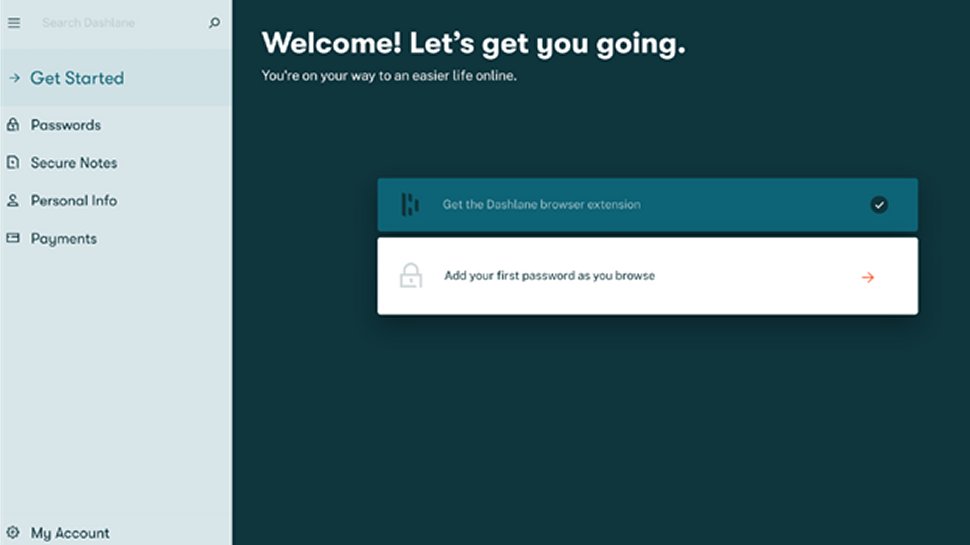 Dashlane: Setup
The setup process is simple and straightforward and took us under five minutes to complete. The interface is so well-designed it led us seamlessly through the handful of steps required to register a new account and save our first set of credentials.
To begin, we were encouraged to add the Chrome extension. From here, we were directed to the sign-up page.
We were presented with a list of popular websites with links and logos and asked to select our first site. The software then guided us through the process of choosing and storing passwords using the Chrome extension.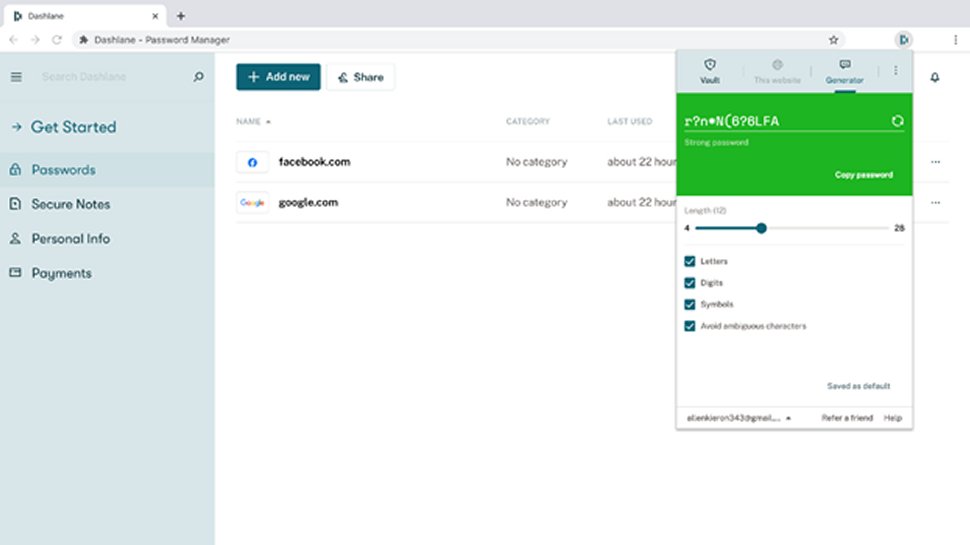 Dashlane: Interface and performance
Dashlane automatically fills login details for websites, credit and debit card numbers, and online forms. This feature can make the average working day far more efficient. A bulk password-changing function also makes it easy to change multiple passwords at once in the event of a significant data breach.
The software is packed with features, including a VPN for safe browsing on public Wi-Fi connections, which makes Dashlane much more than just a password manager. Even the free version includes personalized security alerts and a password generator.
Dashlane's business suite handles every aspect of a company's password security, from password storage and bespoke security ratings for individual team members to security policy management via the in-built Admin Console. From this console, you can "Pinpoint password hygiene problems" from the Password health score that gets generated, along with details of compromised passwords.
Dashlane works with most operating systems, and there is a plugin for all the main browsers, including Chrome, Edge, and Firefox. There is also a desktop app available, but combined, the browser plugin and web app are more than adequate.
It's a very easy app to use. Dashlane's interface is clean, logical and straightforward to navigate, and you don't have to download a separate app – it's all handled using browser extensions or the web.
Here, you can manage and add passwords, view your account information and access the other features that come with your plan. Any changes we made were instantaneous, and Android and iOS apps are also available – with instant syncing deployed across platforms.
The password generator is accessed through the browser plugin, a nice touch that enables you to create strong passwords while browsing.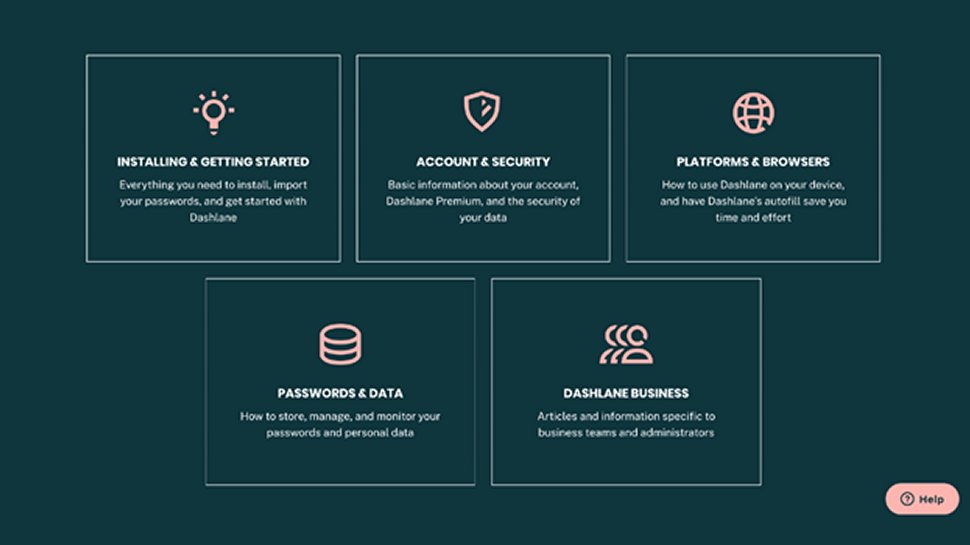 Dashlane: Security
Dashlane is the only US-patented password manager and uses military-grade AES 256-bit encryption alongside its patented technology.
Further security is enabled by two-factor authentication (2FA) compatible with common authenticator apps and U2F security keys. Like some other password managers, there is a master password that the user needs to enter to access the service, but only the user has it, and Dashlane has zero knowledge of it, and does not store it.
There's plenty of support for different SSO apps here, too – Dashlane integrates with Microsoft 365, Google Workspace, Azure, Duo, Okta and more. Businesses can also use customizable policies to create a tailored, secure environment, and automated employee management allows security to start immediately.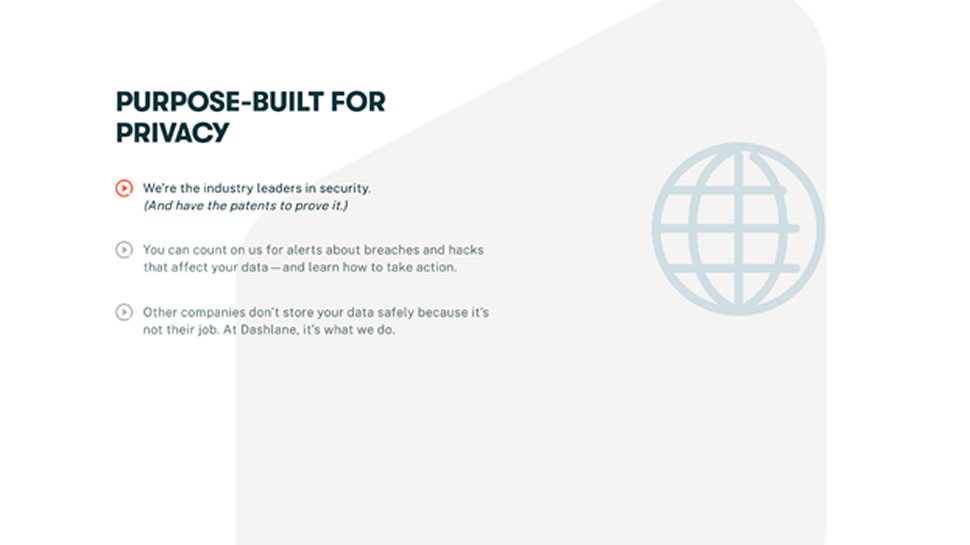 Dashlane: Customer support
Dashlane has a well-organized and easy to navigate support page that we could access through the web app and Chrome extension. It has a prominent search bar top and center to look for content and plenty of articles that guide users through key app features.
FAQs are comprehensive and arranged into categories such as Account & Security, Passwords & Data, and Platforms & Browsers.
Live chat support is available in English during working hours on weekdays, while out of hours, it's possible to consult the chatbot and contact the support team via email. We tested all options and were impressed with each of them, as there was no queue on the live chat and our request was dealt with quickly and professionally. The automated bot provided us with relevant resources, and our email was answered quickly with information on contracting the live support staff.
Remember, too, that certain product tiers also included phone support – ideal if you need help in a hurry.
Dashlane: The competition
Dashlane's biggest competitor is LastPass, which is consistently voted among the best password managers on the market.
Dashlane has a cleaner, more user-friendly interface, but LastPass wins on value for money. Its free version is only slightly different from its paid one, while Dashlane's free product misses out on features like dark web monitoring and VPN support.
KeePass is Dashlane's closest competitor in regards to security. The company sells its service on its security merits, but, unlike Dashlane, this advanced security comes at the expense of convenience. Another strong competitor is N-Able Passportal, which is well-suited to demanding businesses.
Dashlane: Final verdict
The simplicity of Dashlane's interface means even first-time users can benefit from the advanced password management services and security on offer, and its free product is a decent option for basic password protection.
There's plenty of functionality on offer from all of Dashlane's products, especially if you upgrade to the paid versions – but we will say that some of Dashlane's business products are quite expensive when compared to other password manager tools.
We've also featured the best password recovery software.