| | |
| --- | --- |
| Price | No Ratings |
| Reliability | No Ratings |
| Speed | No Ratings |
| Support | No Ratings |
Hide.me is a Malaysian based widely known Virtual Network Provider. The team comprises of highly skilled and talented IT experts who have been gathered from around the globe. The team has experience in various sectors from their past which include work on security projects for various corporations and companies and also some government departments. The team has diversified its efforts and now they target all internet users as they aim to bring and provide complete security, anonymity and freedom to all.
The three plans offered are Free, Premium and Plus.
·The free package costs nothing as the name suggests. Free plan on all devices including Windows, iOS and Android didn't even required sigup or registration. Just download the app and start using. There is a 2 GB data limit transfer for Windows and Mac, and 500 MB/2 Weeks for Android and iOS. Every free VPN account can be connected with one device only.
·The Plus package is a level above the free package. The plus package can be paid for monthly, bi-annually or annually. It offers all the hide.me features a small number of alterations. The data limit plan is extended from the 2 GB of free to 75GB per month. One disadvantage, however, is that instead of 5 simultaneous logins, plus members can only get one simultaneous login. The offer comes priced at $5.42 per month.
·The Premium package is the mother of them all. It contains all the features provided by hide.me. It has a money back guarantee and has no download limit like the other two plans. It also has protocol support. Provided users do not cross 500MB bandwidth; they can ask for a refund for their money if they file the return within 14 days. The plan comes at a cheap $11.67 per month.
Additional features and Special add-on
·Dedicated IPs – No
·Internet Kill Switch – Yes
·Streaming Booster – No
·Online Gaming Support – Yes
·NAT Firewall – Yes
·Web protection- No
·Anti-Malware Protection- No
·Encrypted Email – No
·Stealth Browser – No
·DDoS Attack Protection- No
Hide.me is a multi-purpose service, which can run on all kinds of platforms ranging from, Windows 7, Vista, 8, XP, Android, Mac OS/X, Linux Ubuntu, iOS, Router, Windows Phone 8.1, Blackberry operating system and much other more.
The service is manually set up on every operating system, except for Windows and Android.
·Windows Dialer: its team says the Windows Client is "sleek and glossy". It is feature-rich with stuff like the 'One-Click Connect' feature useful and a timesaver. Auto Connect and Auto Reconnect are also useful features.
·Android & iOS Dialer : The team managed to make everything look just as good as the Windows version even though they are on different platforms. The Android App supports IKEv2, giving stability and encryption which is highly needed. And the pace of the connection is just magnificent. iOS VPN also connects through IKEv2 protocol. Auto Server Connection and Auto Reconnect are two salient features of  the Android & iOS app. The app is entirely free to use and can run on any device which has Android 4.0 or higher and iOS 5.
Transparency is one of the best qualities of this company. Not only is it because in Malaysia, but retention of data is also not allowed, the company does not retain any data and keep user logs, thereby you know it is not keeping your information for anything. The company calls it the no logs policy.
Hide Me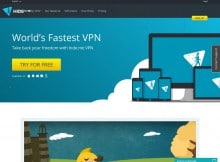 Hide Me
average rating:
1
/5 based on
1
reviews.
You must be logged in to post a review.