Zoho Vault is a business-focused password manager that fits into the wider ecosystem of Zoho products – a system that includes complete CRM platforms, collaboration apps, and high-end finance, HR, and IT management tools.
With that kind of pedigree, we've got high expectations for Zoho Vault, and the app's list of features doesn't disappoint. It's got granular control for sharing and securing passwords across entire organizations, it integrates with popular apps like Gmail, Dropbox, and Microsoft 365, and it has every core feature you need for password security, making it one of the best business password managers.
Zoho Vault: Plans and pricing
Zoho Vault has four pricing plans, including a free tier and free 15-day trial of all the paid plans where you do not need to enter your card details. Zoho Vault Free is the only plan for personal use, with unlimited password storage and two-factor authentication (2FA). It can also generate strong passwords, supports mobile platforms, has browser extensions for major browsers, and integrates with the other Zoho apps.
The Standard plan costs an affordable $0.90 / £0.85 / AUD$1.50 user/month and includes all the features from the free plan. It adds secure password sharing between team members, centralized admin controls, cloud backup, and priority technical support. Even though this is on the lower end of the business plans, you can still do more advanced things like apply IP address restrictions.
Upgrading to the $4.50 / £4.50 / AUD$7 per user/month Professional plan adds user groups and password groups to easily perform batch actions like mass password changes. It also supports folder sharing, "Break the glass" for emergency access, and user access and activity reports. If you need command line interface, then this is where you'll be at.
At the top tier is the Enterprise plan for $7.20 / £7 / AUD$10 per user/month which adds support for Active Directory, single sign-on (SSO) for cloud apps, and password event notifications. It also has help desk integration and support for custom branding.
The prices quoted are for those willing to pay annually, but click a tab on Zoho's website and you can find pricing for rolling monthly subscriptions which cost a little bit more.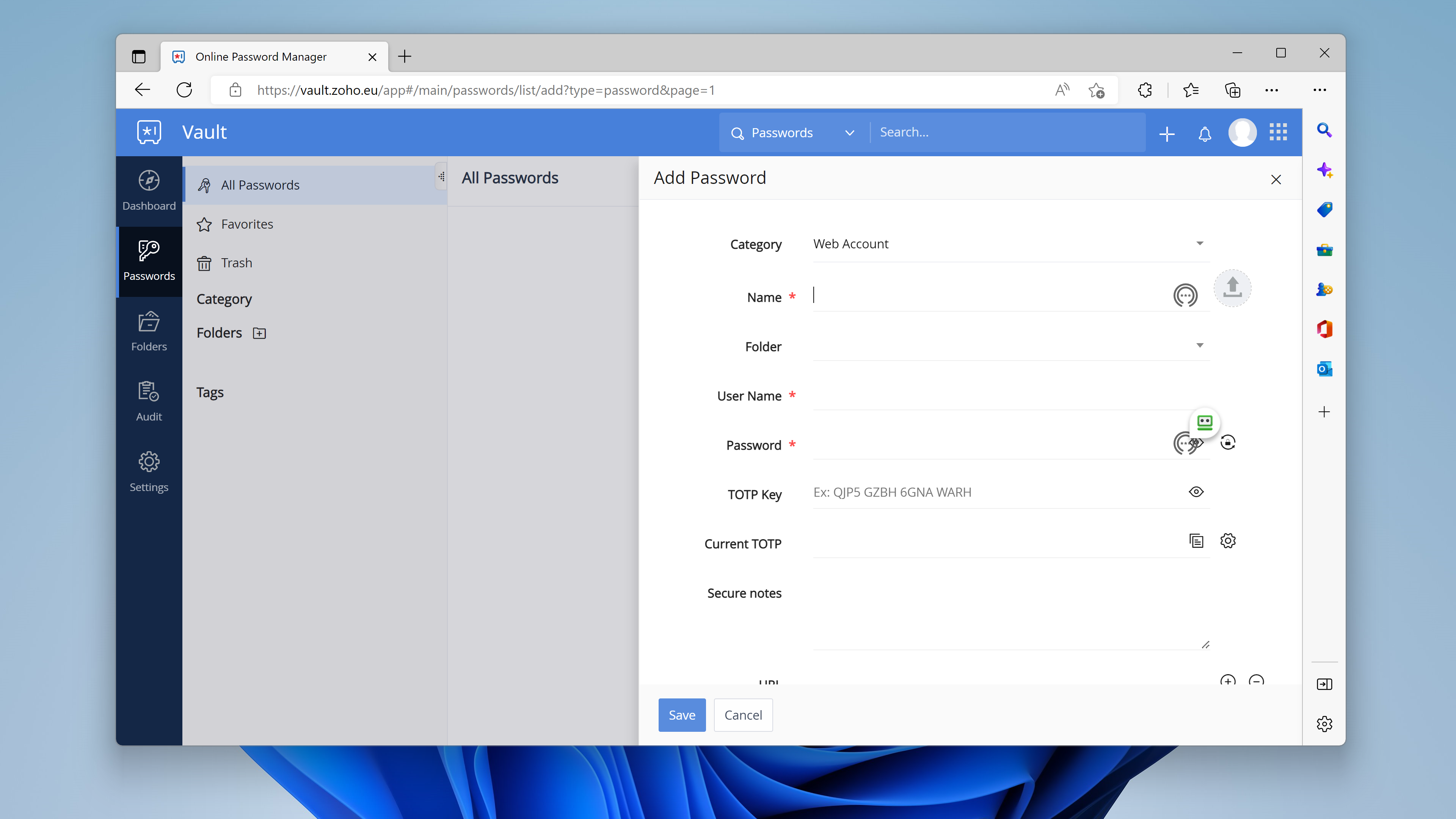 Zoho Vault: Setup
Zoho Vault has mobile apps, but it's a browser-based password manager at heart. Signing up takes seconds. You're asked for a memorable master password or passphrase before getting access to your dashboard. Then you add your passwords, either manually or by importing them from another password manager.
Most of your employees will interact with Zoho Vault through the browser extension, and the majority of Zoho's other products are best thought of as being accessible through the browser. The extension functions like a bare-bones version of the full Zoho Vault dashboard, and will automatically suggest passwords from Zoho Vault when it detects relevant sites. When they add a new password, Zoho Vault will ask whether to save it to the Vault. It also has a built-in password generator to make creating unique passwords a breeze. 
Zoho Vault: Interface and performance
If you need to share passwords between members of a team, Zoho Vault offers the granular control you need. Zoho Vault's user management, permissions, and password policy features set it apart from personal password managers. You can easily make batch changes to passwords, which is ideal for allowing a team secure access.
Zoho Vault can integrate with third-party business apps like Gmail, Dropbox, Microsoft Active Directory, and Microsoft 365. Enterprise users can use Single Sign On (SSO) with cloud apps like Salesforce and Slack, and as Zoho Vault has an API, it's possible to integrate it with any of your own apps.
Zoho Vault is packed with options and fine-grain controls, which is great for large businesses but overbearing for general users. For a team of 1–5 users, Zoho Vault will have far too many irrelevant features, but for large businesses that need secure password management across the workforce then Zoho Vault delivers in spades.
Zoho Vault gives the option to transfer passwords, such as when someone leaves an organization, or when they get transferred to another team. This allows business passwords to be transferred to a colleague or administrator and personal passwords to be exported. Admins can even recover passwords from users who have left on bad terms.
Speaking of passwords, Zoho Vault handles them with ease. It can generate unique, strong ones as needed for new sign-ups. Additionally, it can save these passwords, and the next time you visit that site, it can auto-login to allow people to get to work quickly.
Given that this password manager has the entire backing of Zoho, it should come as no surprise that compatibility should not be an issue. As well as mainstream browsers like Chrome, Firefox, Edge, and Safari, there are also Vivaldi and Brave extensions.
The mobile apps are clean and functional, but they're not particularly exciting to look at. Nevertheless, users are unlikely to have to go into them too much as their main function is to provide a source for the smartphone to autofill.
Zoho is yet to reveal any plans to bring passkey compatibility to its Vault, while many other rival companies have been quick to act on the new passwordless signing method. With iOS and Android both making it easier for third parties to get involved on mobile devices in 2023, it's a shame that a giant such as Zoho hasn't been as quick to respond as others. 
Admittedly, the majority of its plans are business-focused, and businesses are more likely to be slow when it comes to passkey adoption due to potential compatibility issues.
Similarly, other (primarily consumer-facing) password managers have started to bundle in more services like VPNs. Zoho doesn't even have a VPN in its catalog, so this is unlikely to happen anytime soon. With Internet safety in mind, it would be nice to see Zoho create a more rounded package.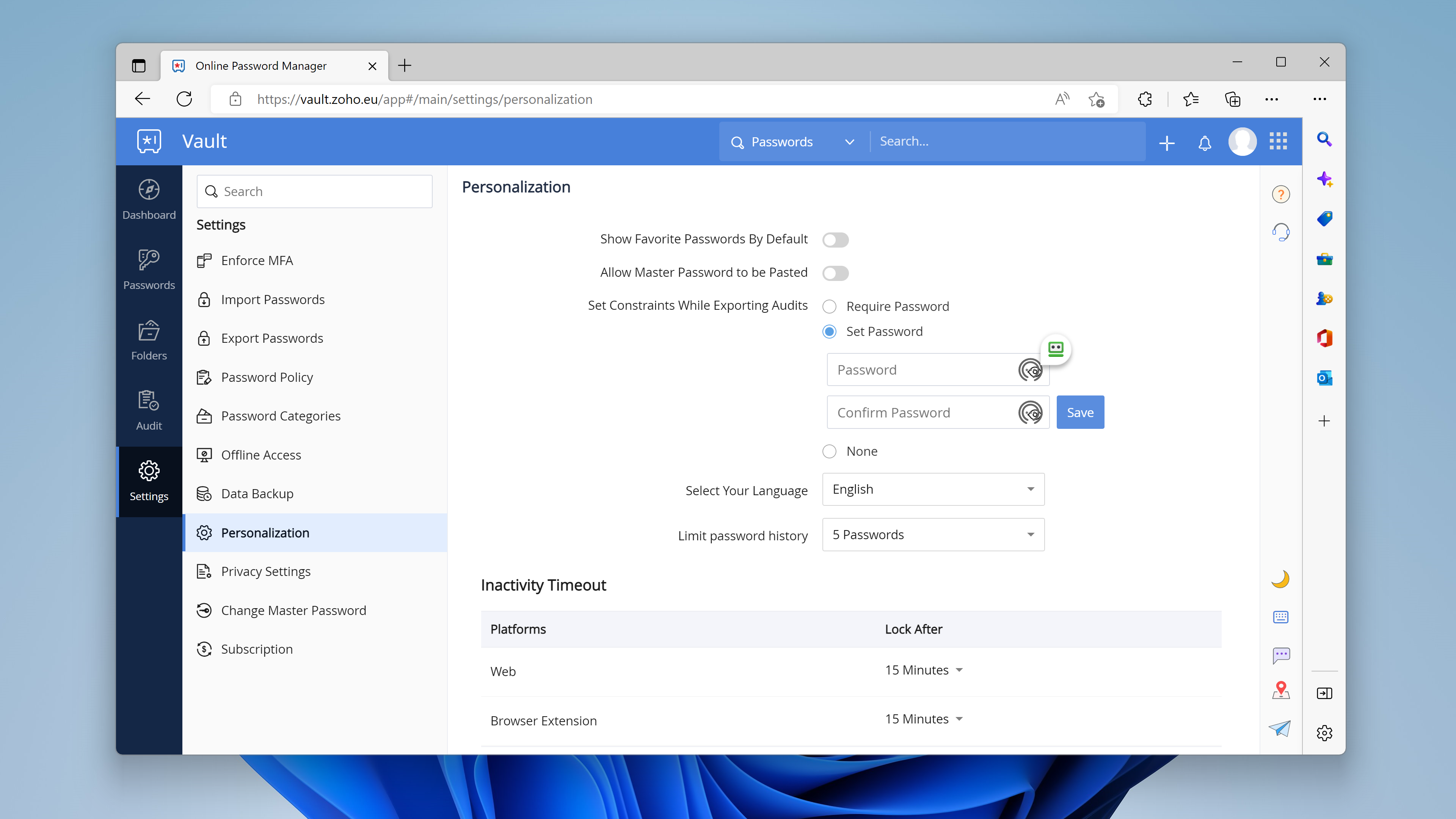 Zoho Vault: Security
With a system that uses a single master password, the security of that password is paramount. Only you know the Zoho Vault master password, and only an AES-256-encrypted version is stored on the Zoho servers. This is the same sort of protection you get with virtually any other password manager.
Zoho Vault uses a host-proof hosting model, which means it performs all encryption in your browser. An attacker can never see your passwords as they're never sent in plain text. Every unique user has an RSA public/private key pair, so when you share a password across a team, it can only be decrypted by those with the correct authority.
Real-time audits help admins keep on top of their organization's security situation, and you can also generate detailed reports to identify weak points and improve your security.Real-time audits help admins keep on top of their organization's security situation, and you can also generate detailed reports to identify weak points and improve your security.
Zoho Vault: Support
Zoho Vault has one of the most impressive customer support sites we've seen, with extensive documentation on every aspect of the software. It includes comprehensive PDF guides, video demonstrations, FAQs, and webinars that range from basic introductions to the software to advanced functionality and best practice guides. We like how easy and painless it is to get a new team member up to speed on Zoho Vault by sending them the relevant PDFs.
Zoho Vault also has direct support options as well. This includes 24/7 email support via a direct email address, and a customer service support line in the US, Australia, India, and the UK. There is also the option of a support portal for messaging Zoho Vault to establish contact.
Zoho Vault: The competition
Though Zoho Vault's free tier for personal use is fine, free personal password managers like LastPass are more straightforward and streamlined if you don't need to share passwords between users, and more suitable for novice and intermediate users. Proton Pass is also a free service (though there is a paid version), and that has some credible security credentials.
For families or small teams of 5–10 members, 1Password is a valid alternative to Zoho Vault. Priced around the same as Zoho Vault, it includes secure document storage. However, as your team gets larger, Zoho Vault's user management controls become more useful. 
If you're specifically after a business password manager, there are plenty of alternatives to consider depending on what you regard as being important. Look out for Bitwarden, which has some impressive features including the ability to opt for self-hosting your passwords in a location you know and trust.
Zoho Vault: Final verdict
Zoho Vault has excellent security, fine control over users and passwords, and superb third-party integrations. It's also inexpensive, and customer support is one of the best we've seen in a password manager service
We don't particularly recommend it for personal use as most of the features are geared towards teams, making the interface somewhat complex, but it could be well suited to sole traders who straddle the boundary. Equally, it's an outstanding password manager for organizations and businesses.
We've listed the best password recovery software.