Cisco Makes Economic Case for Cybersecurity
News
|
Michael Vizard – 2020-07-02 13:18:40 – Source link

Cisco Systems this week is making generally available Cisco SecureX, a free management console through which cybersecurity teams can manage the entire Cisco cybersecurity portfolio, including a suite of Cisco Secure Remote Worker software for establishing virtual private networks (VPN).
John Maynard, vice president for global security sales at Cisco, said in the wake of COVID-19 pandemic cybersecurity requirements have changed. With many employees working from home, cybersecurity teams are being asked to secure endpoint and wireless networks that they don't directly control. At the same time, more cybersecurity attacks are being launched against those endpoints.
Exacerbating that challenge further is the fact that in the current economic climate many organizations are being tasked to reduce the total cost of IT, which includes security. Cisco is addressing that requirement by increasingly embedding cybersecurity functions such as multifactor authentication within networking and server infrastructure, said Maynard. That approach, which Cisco has also extended to cloud services such as Microsoft Office 365, enables IT organizations to converge security and IT infrastructure management in a way that drives down costs, he noted.
Cisco SecureX advances that goal further by enabling IT organizations to monitor cybersecurity events via a centralized security operations center (SOC), Maynard said. In addition, he noted Cisco provides access to threat intelligence via its Talos service that feeds directly into Cisco Secure X.
Via Cisco Secure X, a cybersecurity team can then employ all the capabilities provided by Cisco to isolate endpoints, which Maynard said also serves to eliminate the need for dedicated endpoint detection and response (EDR) tools.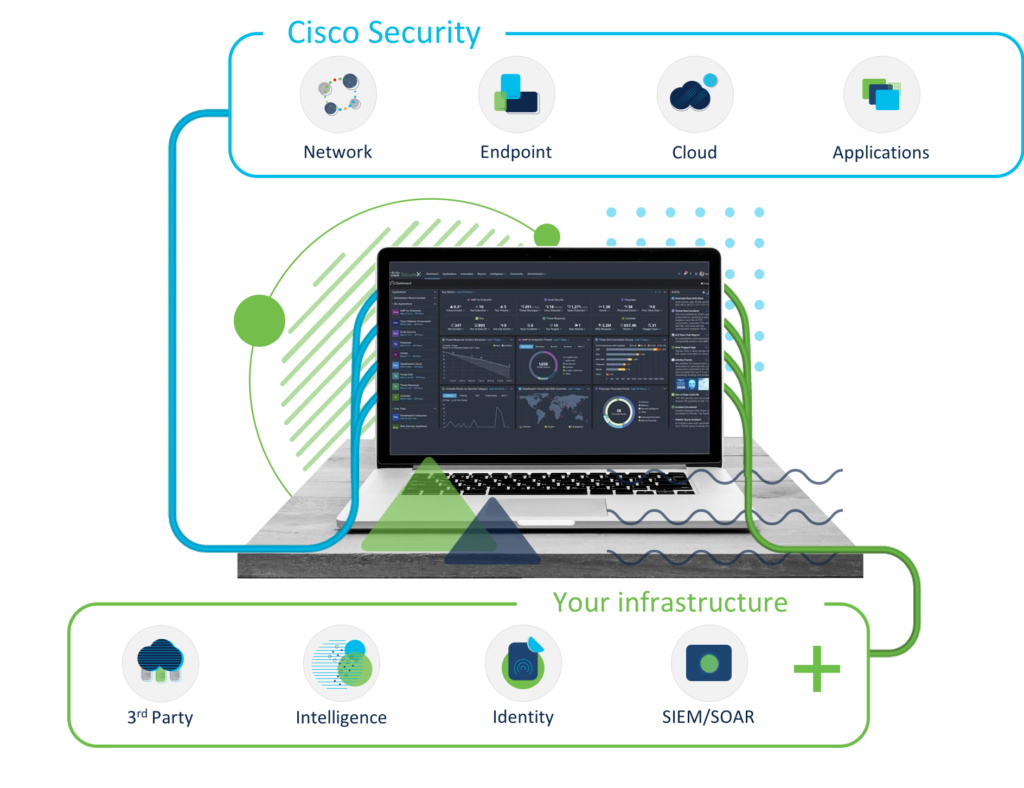 Finally, Cisco is also investing in machine learning technologies and other advanced analytics to streamline the number of alerts being generated. At a time when many organizations are still finding it hard to find and retain cybersecurity professionals, Maynard said alert fatigue has become a significant issue. If a member of a cybersecurity team decides to move on for any reason, it might take a long time for an organization to find a replacement, he said, adding streamlining alerts in a way that reduces the fatigue that often leads to turnover is a major priority for cybersecurity teams.
Maynard said Cisco Secure X is at the core of an effort to redress the poor job IT vendors have done to make it easier to enforce cybersecurity policies across an extended enterprise. The need to work from home more, coupled with the rise of edge computing platforms, only serves to make the enterprise even more extended, he said.
It's not clear to what degree Cisco will be able to leverage its dominance of networking to transform the way cybersecurity is managed. However, the more cybersecurity capabilities that are embedded into IT infrastructure the easier it becomes to maintain cybersecurity. The challenge, of course, is that it can take a significant amount of time, effort and, most importantly, funding to upgrade all the IT infrastructure required to achieve that goal.