| | |
| --- | --- |
| Price | No Ratings |
| Reliability | No Ratings |
| Speed | No Ratings |
| Support | No Ratings |
We believe firmly in your right to browse the internet safely and securely; without fear of censorship or restriction, without worry that you are being tracked by aggressive marketers and government authorities. IronSocket provides technology, tools and services to make that possible. Our mission is to protect your online privacy.
Our story begins in 2005, with the creation of the website "HideMyNet.com". With HMN, we began building the VPN and DNS Proxy technologies necessary for our users to surf the Net anonymously, and unblock censorship filters, regardless of their location. We developed proprietary technical and network solutions to deliver our users the best possible VPN speeds and secure connections. We made excellent customer service a mainstay of our company culture. Today we support a loyal community of valued users.
In early 2013, we set out to build upon this foundation. Work began on a complete overhaul of the HMN brand, its underlying technologies, services, and VPN server infrastructure. In short, we have been working to offer a more robust service, to add servers in more parts of the world, to upgrade the performance of our network wherever and however possible and to offer unrivaled technical support at a great price.
Our vision and desire to create a next-generation VPN and DNS service provider led to the creation of IronSocket, a simple, powerful, and affordable service that excels in areas our users have let us know are most important to them:
Secure, Anonymous Browsing
Unblock Censorship Filters
Broad support of Popular Devices
Streamlined Set-up, Ease of Use
Enhanced Privacy – No VPN Traffic Logs
Enhanced Public Wifi Hotspot Protection
Unlimited Bandwidth
VPN and DNS Proxy Connection with Each Account
Service Upgrades and Add-ons Available
Rock Solid Customer Support!
Our team of technology innovators, network engineers, developers, marketers, and customer support specialists welcome you to IronSocket. We look forward to showing you why we are your best choice for VPN and proxy services.
IronSocket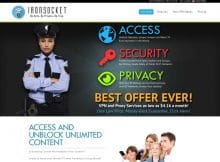 IronSocket
average rating:
1
/5 based on
1
reviews.
You must be logged in to post a review.