RoboForm was initially devised as a password manager for businesses, but the product has expanded and now caters to organizations and individuals.
It's undoubtedly got a broad enough feature set to handle every conceivable situation. Security comes from strong, familiar, and trusted encryption protocols, it has secure sharing options, and it pairs an excellent password generator with support for many platforms.
After we've gone hands-on with RoboForm, head over to our list of the best password managers and best business password managers to see if you should opt for an alternative.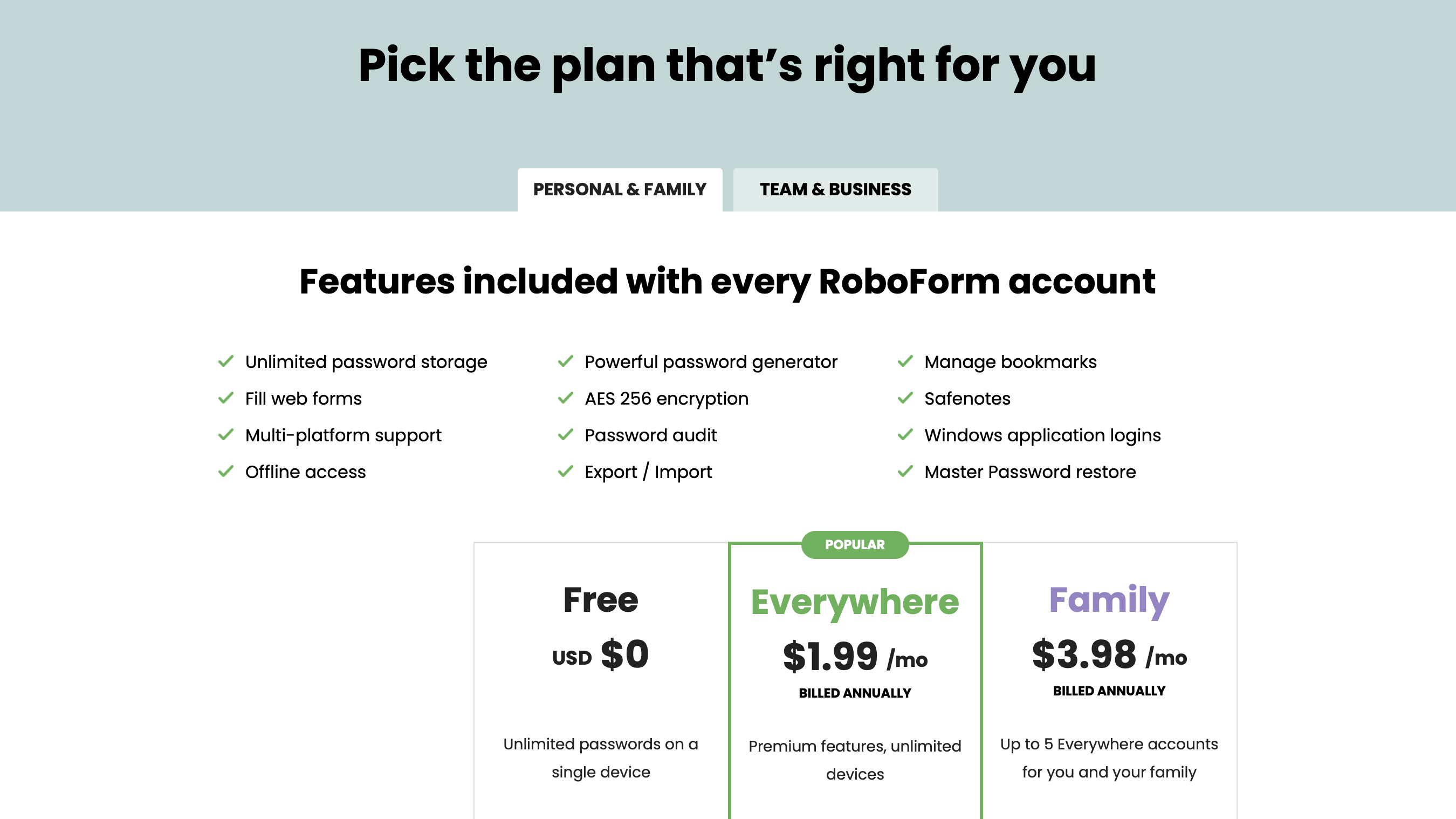 Roboform: Plans and pricing
RoboForm's pricing model for businesses changes depending on how many users require access. All subscriptions provide access to the same features and software. The price per user starts at $39.95 / £35 / AUD$60 per year, so bear in mind that the cost will add up if you buy for a larger organization. For companies that are able to predict their futures, they can sign up for three-year and five-year plans, but with relatively small discounts of 15% and 25% respectively, that might be too much risk for some. You can usually save up to 20% for paying annually with other services, without having to commit to half a decade.
Individual customers can take their pick from a free tier which includes compromised password monitoring, but they're limited on the number of devices they can have signed in and there's no local access option for those times where you need to save credentials without Internet access.
The Everywhere plan adds web access, which the free tier does without, as well as access on all devices, local access, password sharing, and better support. It costs $23.88 / £20 / AUD$35 annually, or $47.75 / £45 / AUD$80 per year if you want those same features for up to five users on the Family plan.
Roboform: Setup
RoboForm offers various software options, meaning business leaders can ensure compatibility across their organization.
In addition to applications for macOS, Windows, iOS, and Android, RoboForm also offers software options for Linux users. Web extensions for all major browsers platforms also mean you can integrate RoboForm right into your web experience, so whether you're using Chrome, Edge, Firefox, you will be covered.
Users can easily access the applications via their device's app store or the RoboForm website. Both apps are highly rated on their respective stores, with the iOS app getting 4.7 out of 5 stars, and the Android version almost as high at 4.5 out of 5 stars. Once downloaded, the app is easy to get up and running, but users must create an account before accessing any of the app's features. The app and its data are protected by lots of authentication methods – including PIN numbers, master passwords, or biometrics.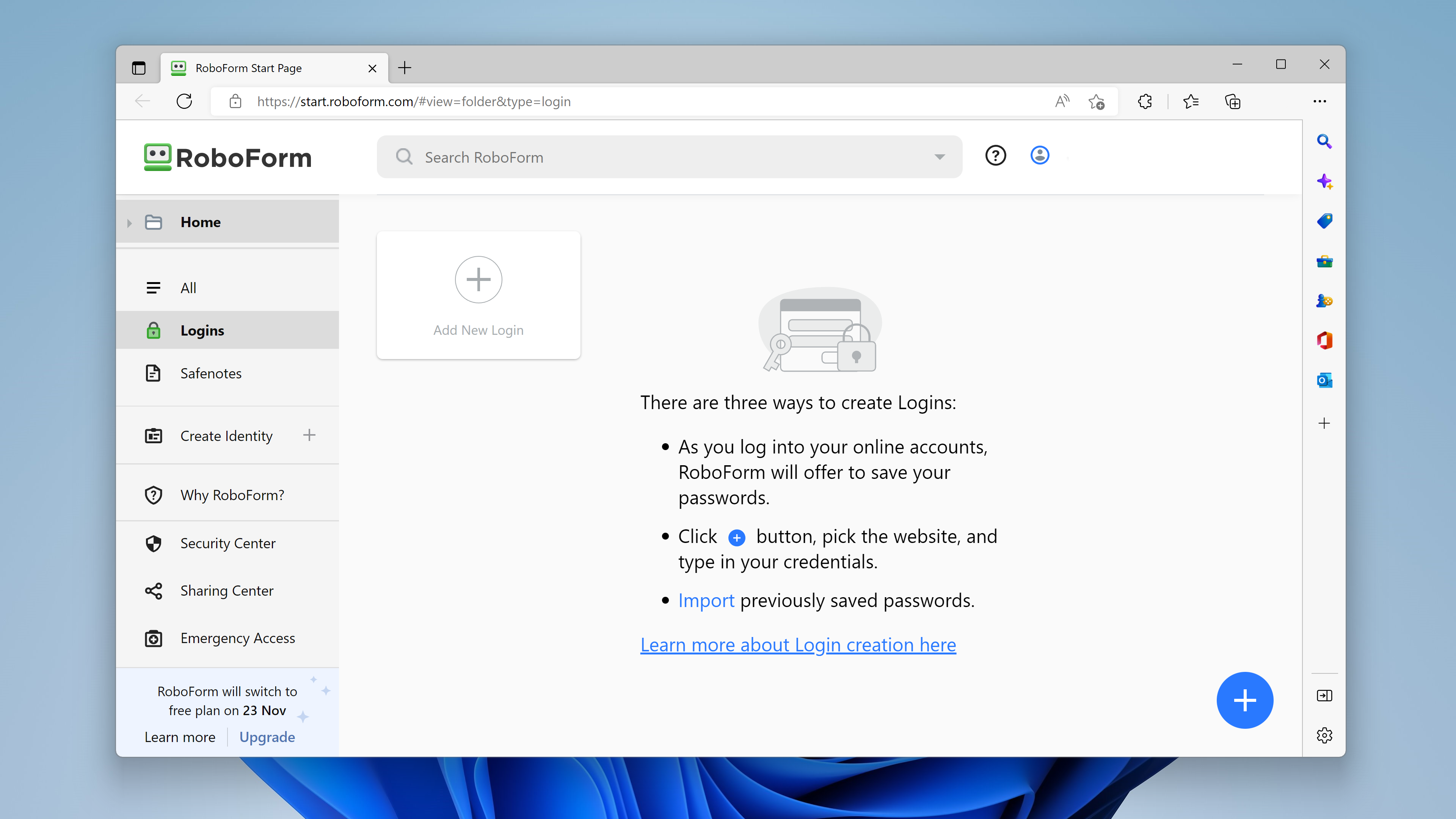 Roboform: Interface and performance
RoboForm includes features such as a password generator for creating strong and unique passwords of sufficient length and complexity, one-click login, cross-platform password syncing, and offline access. It can also auto-fill data fields for time savings on sites that need long web forms completed. As of January 2023, the company also added the much-anticipated 2FA generator into the experience so there's no need for users to rely on third-party apps to generate codes.
We also love RoboForm's integration of folders, enabling users to organize passwords in whatever way is most useful to them. For example, businesses can easily create separate folders for work-related passwords and personal passwords. This is ideal for businesses that want to enable seamless password management for their organization, and it's even more appealing to SMBs and sole traders who want to balance work and life without having to manage two subscriptions.
Password sharing is another powerful feature of RoboForm. This feature enables users to securely share encrypted passwords or credentials with other RoboForm users within your organization – ideal if you want to reduce the risk of sensitive information being exposed outside of your company. It's also possible for RoboForm to grant emergency access to other users in case anything bad happens to an employee.
The RoboForm app isn't the most glamorous password manager application, but it performs strongly and it's easy to navigate its range of features. While it lacks some of the polish that other desktop clients have, it's by no means bad and actually looks a lot better than some other options.
We tested the RoboForm app on Windows, macOS, iOS, and Android, and were impressed by the speed of syncing. Although we had to conduct a manual sync, it took less than three seconds for data uploaded on the mobile app to appear on our desktop device. You can also enable automatic syncing.
Another strength of RoboForm is the high degree of account control. Users can make loads of customizations to security protocols and account settings when using the desktop or mobile apps. These advanced controls are one of the reasons RoboForm is one of our favorite password management solutions for businesses.
It's worth mentioning that, like some of its rivals, this is purely a password manager. Other companies tend to bundle in some additional functionalities, or they offer more services as a company, which makes RoboForm look a little bit expensive in comparison. For example, there's no VPN service so you'll either have to pay extra for one of those or go for a password manager that has one.
Given the clear intention of targeting personal customers, it's a shame that RoboForm has not yet disclosed any plans to add passkey compatibility. The passwordless login method is an emerging technology that has so far been fairly slow to take off, and it's expected to take even longer before businesses want to get on board, but many consumer-oriented password managers either already support passkeys or will do in the near future, so if that's more your thing, then for now at least, you're out of luck with RoboForm.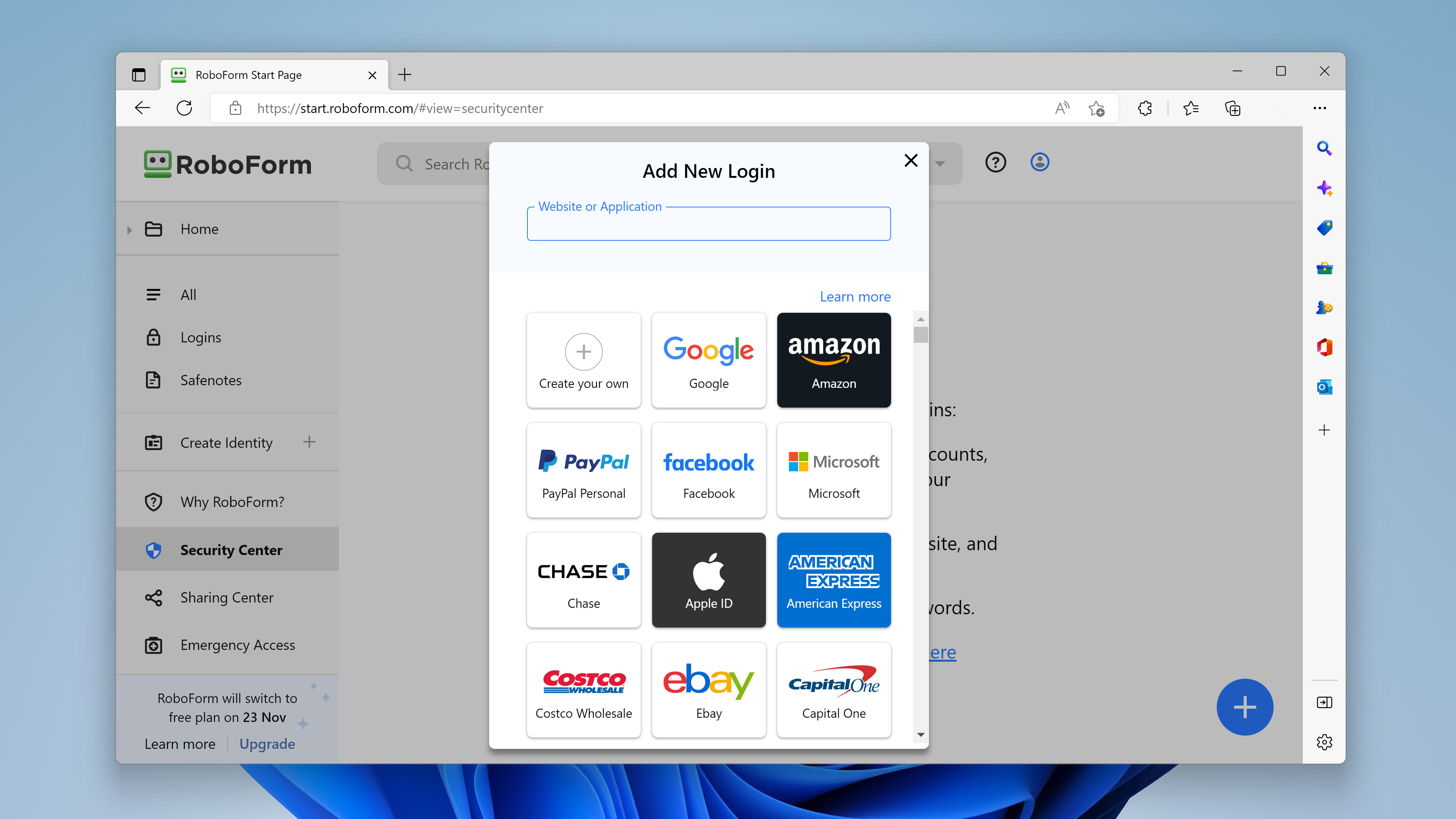 Roboform: Security
As with any password management solution, a top-notch security framework is integral. Luckily, RoboForm doesn't disappoint. As a standard, all data stored on RoboForm's platform is encrypted end-to-end with AES 256-bit encryption. Two-factor authentication is also available for all businesses, and further enhances data security, and third-party authentication apps are supported.
RoboForm also provides advanced administrator controls such as enforced minimum master password standards and periodic password changes.
Businesses can also make use of public-private key cryptography, which allows business administrators to share encrypted passwords and credentials with employees without them ever having to see the actual password. This feature alone makes RoboForm one of the best password management solutions for businesses
Moreover, there's an entire page on the company's site dedicated to exposing the security measures and features, which is a major green flag for us. Companies that are open about how they operate inspire confidence, and subject themselves to more scrutiny. 
Roboform: Support
There is free support available to all via the Help Center and Manual. Here, topics get organized into categories such as Security, Web Access, and Emergency Access, and each has a list of articles to guide users through the issue.
RoboForm provides superior customer support for its subscribers and business customers. IT administrators or employees can contact the RoboForm team either via their online support system or by phone during business hours, 9AM to 5 PM EST. There are also several online learning and training resources available.
Roboform: The competition
Although RoboForm is close to best in class, it still faces competition from some of its competitors. LastPass, often considered the top provider, offers advanced administrator controls and centralized account management comparable to RoboForm's platform.
RoboForm is also one of the most expensive password management platforms. Small and medium-sized businesses might therefore want to consider less expensive options such as RememBear, Sticky Password, NordPass or Dashlane.
If security is of great important to you, you may want to consider the recently launched Proton Pass, or if you want to take it a step further, Bitwarden users can opt for self-hosting to keep their data in a location they know and trust, even behind a firewall or proxy, which is a really exciting option that isn't typically seen in password management, and beyond.
Roboform: Final verdict
RoboForm is a business-oriented password manager that all businesses would do well to consider for their organization. Although more expensive than many of its rivals, RoboForm offers advanced features that make it arguably one of the best password managers available.
Centralized administrator control, password sharing, and emergency access all make RoboForm particularly well suited to businesses and ensure a seamless experience across your organization. RoboForm's security framework is also close to best-in-class, so businesses can be confident that their passwords and credentials are secure and inaccessible, even to RoboForm. We recommend RoboForm highly to individuals and companies looking for a password management solution.
On the other hand, with a selection of reasonably priced personal plans, it's also a product you could choose for home use, and though there are cheaper options, it's still a very capable password manager.
We've listed the best password recovery software.