The 10 Websites That Track You the Most | by PCMag | PC Magazine | Oct, 2021
News
|
medium.com – 2021-10-26 16:21:26 – Source link

Beware the beloved HGTV. On the flip side: Wikipedia doesn't care about your web whereabouts.
By Eric Griffith
You're likely aware that companies watch your online activity with varying levels of intrusiveness. As you move from website to website, trackers on those sites report on your digital movements to advertisers and other interested parties. They can even track your actual IRL moves and who you're with, based on your phone's networks and location.
Surfshark, maker of the popular VPN (we gave it a rating of 4, which is excellent) did some digging in a report called Who's Tracking You? to find which websites do the most tracking. Using a site list comprising the most popular websites according to SimilarWeb and AllYouCanRead, Surfshark found that the Big Tech companies with the most trackers are Google with 18, Microsoft with 17, and Amazon with 11.
Of other popular sites it included, the worst offender is click-bait bro-site theChive, with 143 trackers alone. Others in the top five include news outlets Salon and NY Daily News, and HGTV. Surfshark posits the possibility that such sites don't like to carry too many advertisements-so this may be how they make up for that lack of revenue.
Just as interesting are the sites not doing much tracking. That top five includes Wikipedia and TikTok, which are tied for first place with only three trackers found on each. Porn site XVideos is fourth (tied with Instagram), and Netflix is fifth. You can see the full top 10 at the top and bottom of the list here, or click over to Who's Tracking You? for an interactive list you can reorder by the type of sites you visit. It reveals that lifestyle sites led by theChive, LADbible, and Refinery29 had the most trackers on average. And in general, music and science sites had the least number of trackers.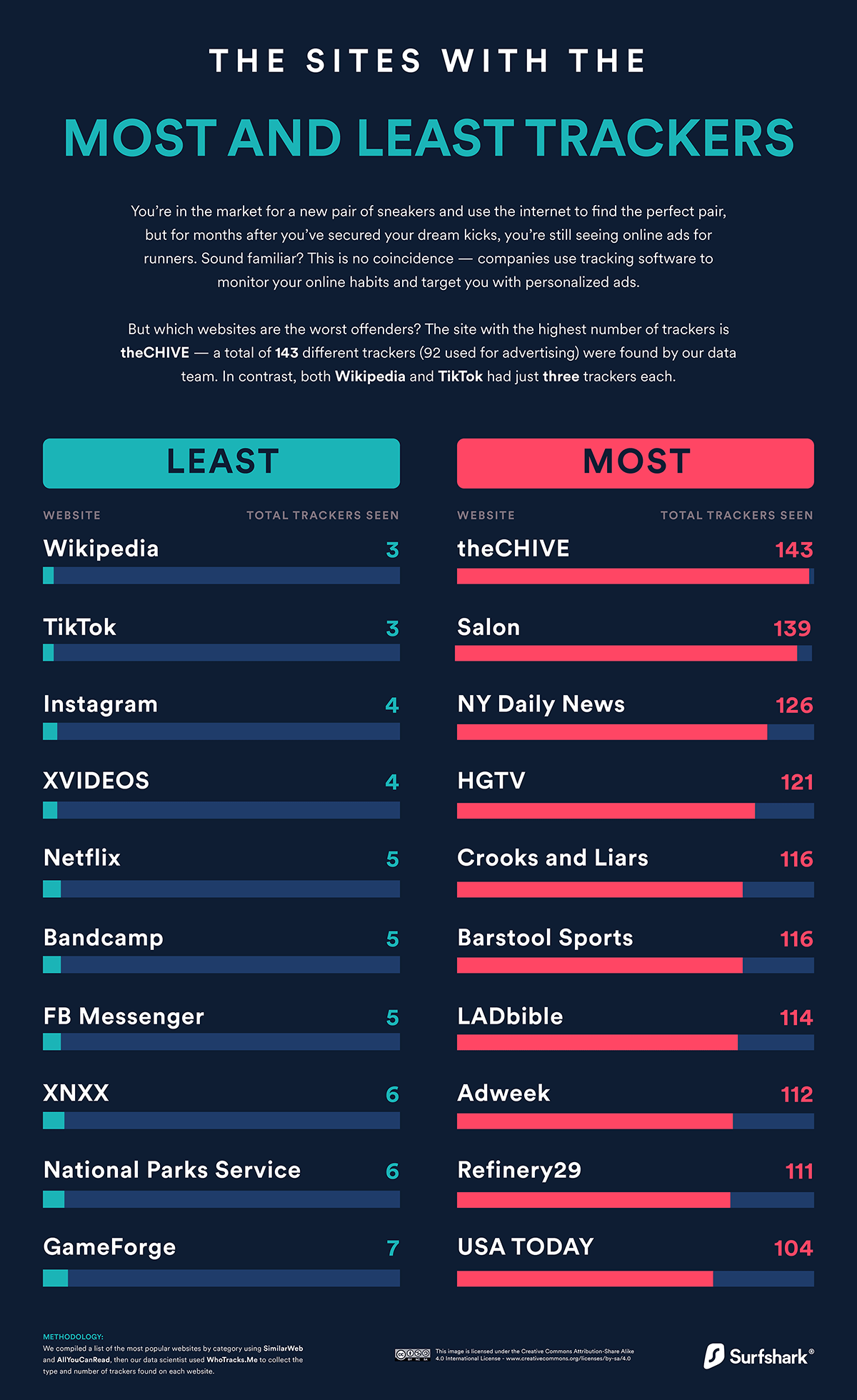 If you're worried about your privacy after reading this, Surfshark suggests you install a VPN (of course) to foil trackers. That's not 100% effective, so the company also has an infographic in the report that covers different kinds of trackers, such as cookies, tracking pixels, and fingerprinting, and how to go deeper in blocking trackers. We suggest you also read How to Hide Your Browser Fingerprint, How to Control and Delete Cookies on Your Browser, and How to Get Google to Quit Tracking Your Location.